Agricultural Economics
& Rural Sociology
3 ADVANTAGES OF EARNING YOUR Ph.D. WITH AUBURN AG ECON
1. STEM DESIGNATION
CIP Code 45.0603 Econometrics and Quantitative Economics
2. WORK WITH HIGHLY PRODUCTIVE FACULTY 
These faculty publish in top journals and together win millions in competitive grants each year
3. ATTRACTIVE TOTAL FUNDING PACKAGE
Full 12-month funding for research assistants of $20,000 or more
Full tuition remission (i.e., free tuition) (Worth $32,112 for the 2023-24 academic year)
No hidden College-specific tuition/fees
Funded students only pay University fees (In 2023, the student service fee was $916/semester and the student health insurance plan cost $2,329/year)
Note: Apply by Feb 1 for best consideration for fall funding. Consideration is also given to later applications for fall or spring admission if additional funding is available. No additional application is needed for funding consideration. Funding may also be available for the department's master's degrees.
Building economies & strengthening communities
As part of the world's largest industry, our work is about the economic and social impact of agriculture on local, regional, national and global scales. Our students, faculty and alumni work every day to build stronger communities and economies through business, law, public policy, trade, finance and so much more. This is accomplished through our partnerships with every sector of the agricultural industry.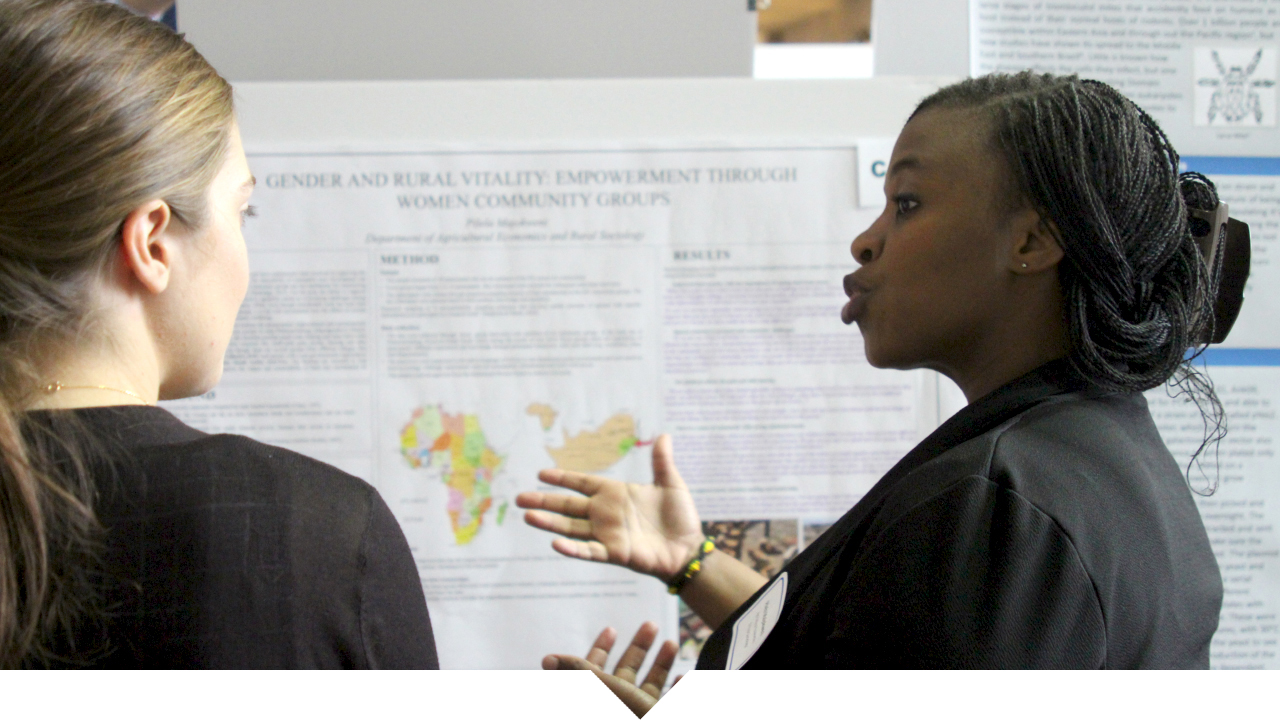 Our Mission

To prepare citizens of the state, nation and international communities to better understand and work effectively towards addressing food, farming, environmental and rural issues.
Majors
Auburn's Agricultural Economics and Rural Sociology undergraduate degrees include a major in Agricultural Business and Economics as well as three minors designed to complement a variety of majors in the agricultural sciences and other academic and professional fields of study.
Graduate Degrees
The AERS department offers a joint doctoral degree (Ph.D.) in Applied Economics (with Forestry and Economics faculty), an M.S. degree in Agricultural Business and Economics, an M.S. in Rural Sociology and a Master of Agriculture degree.
Accelerated Bachelor's & Master's Program
Graduate Degrees & Programs
Affiliates, Emeriti & Visiting Guests
Get to Know AERS Graduate Students
Agricultural Economics &
Rural Sociology Dept.
202 Comer Hall
Auburn Univ, AL 36849
334-844-4800
Our Students
Since 1936, almost 1400 students have graduated from our department. Learn more below.
AERS Alumni
Our alumni are a wonderful resource, and we are interested in their pilgrimage following graduation. Learn more about our engaged and successful alumni from over the years by reading their stories below.
Share your story & Keep in Touch
Let us know what you're doing now. You're important to us! Whether you are a fully engaged professional, in an active career, retired, nearing retirement, or just entering the "real world," we'd like to keep up. 
The Auburn Alumni Association provides information on how to renew or join and enjoy all the benefits AU Alumni Association membership has to offer. This also helps keep a directory of where our former students are now.
Expertise & Research Interests
The range of experience and research interests among AERS faculty provides a strong, diverse, undergraduate and graduate experience. Specialty areas of faculty include production economics, price analysis, marketing, finance, quantitative and qualitative methods, applied econometrics, international trade, economic development, environment and natural resources, aquacultural economics, agribusiness, farm management, justice and governance, social and community organization and community development.
Additional areas of concentration, such as statistics, agricultural production science, economics, computer science, human sciences and social sciences, may be emphasized with graduate coursework in other departments.
Agricultural Economics & Business
Dennis Brothers (Agricultural Economics, Extension) – Broad spectrum extension outreach; Commercial Poultry economics; Contract grower-integrator relations; Renewable energy applications in agriculture; Property/business insurance concerns for contract growers.
Dr. Joel Cuffey (Agricultural Finance, Farm Policy)
Dr. Joshua M. Duke (Department Head) –

Agricultural sustainability decision making and markets; Cost-effective agricultural land conservation and preservation policy design; Experimental and behavioral economics; Food labeling; Agricultural policy analysis under information asymmetry; Economics of agricultural best management practices; Coupled models of human decisions and agri-environmental processes at the field-scale; Evaluation of land taxation policy; Land economics; Environmental law and economics; Property rights.

Dr. Valentina Hartarska (Agricultural Finance, Farm Policy, Economic Development) – R

esearch interests are in financial markets and institutions, agricultural finance, microfinance, and economic development.

Dr. Samir Huseynov (Experimental & Behavioral Economics) – Recalibrating economic choice models with biometric data (eye-tracking, facial expression analyses, EEG, and galvanic skin response);  Studying individual economic decision-making and choice processes;  Food labels and the role of information in economic decisions;  Attention deficiency and saliency of choice attributes;  Sequential sampling and drift-diffusion models of the cognitive process behind economic decisions.
Dr. Wenying Li (Consumer Economics) – Economics of Food, Health, and Nutrition; Applied Micro-economics; Agricultural Policy and Marketing; Innovative Statistical Methods.
Dr. Ruiqing Miao (Risk Management, Resource Economics) – Risk management and new technology in the impact of crop insurance on crop yields as well as land, and water uses. Study of apiculture productivity, climate change, conservation economics and bioenergy economics.
Dr. Denis Nadolnyak (Environmental, Resource Economics, Policy, Climate Change) – R

esearch program combines the related areas of risk analysis and climate impacts on agricultural production and finance. Particular interests include the effects of climate variability and change on the agricultural sector and land values and how financial risk management tools mitigate the related risks.

Dr. Adam N. Rabinowitz (Production Economics, Extension) – Economic research in production economics, agricultural policy, extension, and risk management.
Max W. Runge (Farm Management) – Row Crop Enterprise Budgets, Livestock Enterprise Budgets, and Input prices.

Dr. Wendiam Sawadgo

(Agri-environmental Economics, Policy) – Economics of conservation practices that enhance soil health and water quality; Profitability of agricultural production; Non-market valuation; Agricultural marketing; Land economics; Risk management.
Dr. Mykel Taylor (Land Economics) – Research in rental rates, landowner-tenant relationships, farm bill policy, farm management.
Dr. Sunjae Won (Agribusiness) – Research in e

conometric methods, with an emphasis on risk management for the full suite of agricultural produce. Particular interests include how climate change would affect our society and how our society can mitigate the impact using geospatial data.
Rural Sociology
Dr. Ryan Thomson (Rural Sociology) – 

Rural Sociology, natural -resources, inequality, heirs property, green crime, stakeholder engagement, environmental justice, social network analysis, geospatial analytics.

Dr. Michelle Worosz (Rural Sociology) – 

Agrifood system governance; Food safety; Food security; Short supply chains; Values-based supply chains; Local foods; Agrifood production and consumption systems; Technology transfer; Adoption of bundled technologies; Climate-Smart technologies; Co-development of knowledge; Participation and engagement;  Convergence science; Media analysis; Climate resilence communication; Pedagogy of critical thinking and information literacy skills.