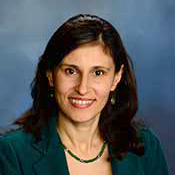 Agricultural Economics & Rural Sociology
Address:
210 Comer Hall
Auburn Univ, AL 36849
Biography
EDUCATION
2002 Ph.D. The Ohio State University
1997 MA. in Economics. CEU, Hungary & University of Essex, UK
1995 B.A. Finance. UNWE, Bulgaria
PROFESSIONAL EXPERIENCE
2019, June Visiting Professor, Montpellier Business School, France
2016-present Graduate Program Officer, PhD in Applied Economics, Graduate Committee Chair
2015 Visiting Fulbright Scholar, Center for European Research of Microfinance, Free University of Brussels, Belgium
2014-present Alumni Professor
2013-present Joint Appointment (Courtesy) Professor, Department of Finance, Auburn University
2002-2013 Assistant, Associate, and full Professor, Department of Agricultural Economics and Rural Sociology, Auburn Univ.
2012-present Associate Researcher, Center for European Research of Microfinance, ULB, Brussels, Belgium
2008-2011 Adjunct Professor, Université Mons-Hainaut, Belgium
2007 Consultant, Consultative Group to Assist the Poor (CGAP), The World Bank
HONORS AND AWARDS
Warren Samuels Prize for Outstanding Research, Society of Social Economics, ASSA Meeting, Atlanta, 2019
Co-Chair, Committee for Strategic Internationalization of Auburn University, 2018-2019
Outstanding Publication Award, College of Agriculture, Auburn University, 2018
Best Paper Award in Microfinance (finalist), FMA International 2018
High Impact Paper Award, College of Agriculture, Auburn University, 2012 and 2016
Fulbright Scholar, Core Programs, Belgium Spring 2015
Global Teaching Academy Fellow, Auburn University, 2014-present
Plenary Speaker, 3rd European Microfinance Research Conference, Agder University, Norway, 2013
Emerald Literati Network, Highly Commended Award Winner, 2013
Distinguished Professional Contribution Award, Southern Agricultural Economics Association, 2008
Fellowship, Center for Financial Research, Federal Deposit Insurance Corporation, 2006
Invited Speaker:
– Federal Reserve Bank of St Louis, October 3rd, 2013
– Microfinance Industry Meeting, Agder University, Norway, 2011
– Financial Economics Seminar, The World Bank, 2010
– Federal Reserve System, 4th Community Affairs Research Conference, 2005
PROFESSIONAL AFFILIATIONS
American Finance Association
Financial Management Association International
Agricultural and Applied Economics Association
American Economics Association
European Agricultural Economics Association
International Association of Agricultural Economists
Research
RESEARCH ACTIVITIES
My main research interests are in financial markets and institutions, agricultural finance, microfinance, and economic development. I am interested in efficiency and governance of traditional and nontraditional financial institutions, impact analysis, gender and financial decision making, as well as real estate finance.
Courses
COURSES TAUGHT
Agricultural Finance
Agribusiness Finance
Agribusiness Management
Introductory Econometrics (MS & PHD)
Introduction to Rural Development (MS)
International Development Economics (Applied Impact Analysis Ph.D.)
PhD Research Paper Development
Publications
SELECT PUBLICATIONS
Sheng Li, D. Nadolnyak, and V. Hartarska, (2019) "Agricultural Land Conversion: Impacts of Economic and Natural Risk Factors in a Coastal Area," Land Use Policy. 80(1): 380-390
Khachatryan, K., V. Baghdasaryan, and V. Hartarska (2019) "Is the Model 'Loans-Plus-Savings' Better for Microfinance Institutions? A PSM Comparison," Review of Development Economics, DOI: 10.1111/rode.12589
Chen, R, V. Hartarska, and N. Wilson, (2018) "The Causal Impact of HACCP on Seafood Imports in the U.S.: An Application of Difference-in-Differences within the Gravity Model" Food Policy, 79: 166-178.
Malikov, E. and V. Hartarska, (2018) "Endogenous Scope Economies in Microfinance," Journal of Banking and Finance," 93: 162-182. CoAg Outstanding Publication Award, 2018
Shen Xuan, and V. Hartarska (2018) "Winners and Losers from Financial Derivatives Use by Community Banks" Applied Economics,50(41):4402-4417
Quaye F., Nadolnyak D., and V. Hartarska (2018) "Climate Change Impacts on Farmland Values in the Southeast," Sustainability, 10 (10), 3426
Nadolnyak, D., V. Hartarska, and X Shen (2017) "'Farm Credit System Credit and Farm Income and Output'" Agricultural Finance Review,77(1):95-110.
Delgado M., C Parmeter, V. Hartarska and R Mersland, (2015) "Should All Microfinance Institutions Mobilize Microsavings? Evidence from Economies of Scope" Empirical Economics 48:193–225.
Hartarska, V. Roy Mersland, and Denis Nadolnyak (2014) "Are Women Better Bankers for the Poor: Evidence from Rural Microfinance Institutions?" American Journal of Agricultural Economics 96 (5): 1291-1306
Hartarska, V., Shen, X., and R. Mersland, (2013) "Scale Economies and Elasticities of Substitution in Microfinance Institutions," Journal of Banking and Finance, 37(1): 118-131.
Hartarska, V., and R. Mersland, (2012), "What Governance Mechanisms Promote Efficiency in Reaching Poor Clients? Evidence from Rated MFIs," European Financial Management, 18(2): 218-239
Hartarska, V.; C. Parmeter, and D. Nadolnyak (2011) "Economies of Scope of Lending and Mobilizing Deposits in Rural MFIs: a Semiparametric Analysis," American Journal of Agricultural Economics, 93(2):389-398.
Caudill, S, D. Gropper, and V. Hartarska (2009), "Which Microfinance Institutions Are Becoming More Cost-Effective With Time? Evidence from a Mixture Model," Journal of Money, Credit, and Banking,41(4): 651-672
Hartarska V. and D. Nadolnyak, (2008) "An impact Analysis of Microfinance in Bosnia," World Development 26(12): 2605-2619.
Hartarska, V. and D. Nadolnyak (2007), "Do Regulated Microfinance Institutions Achieve Better Sustainability and Outreach? Cross-Country Evidence," Applied Economics 39(10-12): 1207-1222
Hartarska, V. and C. Gonzalez-Vega (2005), "Credit Counseling and Mortgage Termination by Low-Income Households," Journal of Real Estate Finance and Economics, 30(3):227-243.
Hartarska, V. (2005) "Governance and Performance of Microfinance Institutions in Central and Eastern Europe and the Newly Independent States," World Development, Vol. 33(10):1627-1643.