By Jamie Creamer / Dec 20, 2019 3:05:51 PM
Feature
'13 Auburn food science grad lives dream finds sweet job with Nestlé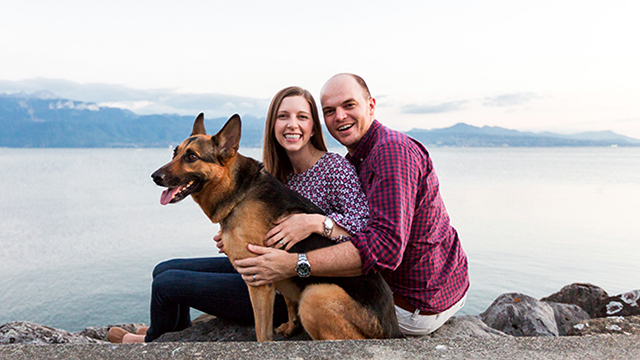 Beth Westmoreland Miller baked her first batch of Nestlé® Toll House® chocolate chip cookies when she was 10 years old. OK, so maybe she didn't bother to read the directions, and maybe "beating well" isn't a realistic option when you've dumped all the ingredients in one bowl, but even at that young age, she knew a bagful of those rich Nestlé morsels can cover a multitude of baking errors.
In the years since, Miller has made umpteen dozen chocolate chip cookies, 34 dozen of which she made for a friend.
"She was getting married, and her fiancé really didn't want a groom's cake, so she asked me if I'd make 400 Beth Cookies for the reception," said Miller, a 2013 Auburn University food science alumna.
Beth Cookies, so you'll know, are Miller's tweaked version of that classic Toll House recipe that Nestlé introduced 60-something years ago.
"Over the years, I've made a few changes, come up with a few tricks and made the recipe my own," she said. "I have perfected it."
So perfected it, in fact, that, friends and family call her morsel-filled treats Beth Cookies to distinguish them from your typical chocolate chip cookies. Miller isn't picky about what brand of flour, or butter, or vanilla you use to make Beth Cookies, but only Toll House chips from Nestlé will suffice.
That she now works for Nestlé—at its global headquarters on the north shore of Switzerland's Lake Geneva, no less, and with the Alpine foothills as a backdrop—is sweet, sweet, sweet.
"It's a dream," the Scottsboro, Alabama, native said from her office in the Swiss town of Vevey.
It's a dream she probably wouldn't be living had she followed through her junior high and high school plan to become a dentist. She even began her freshman year at Auburn fall semester 2009 as a pre-dentistry major, but a few hours spent shadowing doctors at a dentist office nipped that yen in the bud. By the end of the semester, she had changed her major to food science in the College of Agriculture. Not long after, she added a minor in supply chain management.
She had found her sweet spot.
Miller graduated from Auburn spring semester 2013, and shortly thereafter, she started a post-graduation internship with Back Forty Beer Co. in Gadsden, working in both research and procurement. That's when she realized her professional future lay in the logistics side of the food industry.
"I had thought about a research career, but I decided that doing research in a lab all day would drive me crazy," Miller said.
You never know; she might still be at Back Forty today, had any full-time logistics positions been available at the time. None were, though, so she started searching for employment opportunities and struck gold with lightning speed, landing a job as a confections and snacks deployer with Nestlé USA at its headquarters in Los Angeles.
"It was unbelievable," she said. "There I was, not a year out of Auburn, supporting the very Nestlé factory that makes Toll House morsels."
Three and a half years and two promotions later, the chance to move to Switzerland as an international strategic buyer with Nestlé Global came Miller's way, and she grabbed hold with both hands.
"My family and I did a lot of overseas traveling when I was growing up, and I'd always imagined how amazing it would be to live abroad," Miller said. "Living in this beautiful country and working for Nestlé, it's like a dream come true."
Before leaving the States, returned to Auburn for a wedding: her own. In a May 27, 2017, ceremony, she married John Miller, a Virginia native and University of Virginia graduate who was working in LA when one of her co-workers introduced them. And no, Beth Cookies were not served at this reception.is reception.
Not three months later, the newlyweds moved to the Swiss canton of Vaud and have found their happy place. In Switzerland, he is a sales program manager with an international medical technology, services and solutions company at its location near Vevey.
John Miller learned very early in their relationship that, as far as his orange-and-blue-bleeding bride is concerned, Auburn is a suburb of heaven. Yes, he can yell War Eagle with the best of them, and he understands that their fall weekends must include Auburn football. Even now, an ocean away.
Back in September, theirs was likely the only residence in all of Switzerland that was turned in to the Auburn–Texas A&M game. Kickoff was at 2:30 p.m. Auburn time, 9:30 p.m. Central European Time.
"One of my colleagues at work is actually from College Station, so we invited her and her husband to watch the game with us," Miller said. "If they promised to pull for Auburn, of course."
For that small game-watch party, she put on a pot of Miller Family Chili, which has as its secret ingredient a whole bottle of Back Forty's Naked Pig Ale. She took meticulous notes as she made it to ensure perfection, especially since she planned to share it a few thousand faithful Season readers in the magazine's debut recipe column.
That's also why she baked a few dozen Beth Cookies a couple of weekends later.
"I've never written that recipe down for anybody, so I had to carefully measure everything out and write down every step," she said. "I didn't want to cause any disasters."
Oh, and remember that mega-order her engaged friend placed for Beth Cookies a few years back? Miller obviously couldn't say no, and she never regretted it.
"At the reception, they served shot glasses of milk with a cookie sitting on top of each one," she said. "Quite creative, and really cute."
Should you ever face the challenge of baking 34 dozen Beth Cookies, Miller has great advice.
"The next time you need to make 400, get a few friends over and have a cookie-making party," she said. "That's what I did."
Beth Cookies
Makes 3-4 dozen
2 1/4 cups all-purpose flour
1 teaspoon baking soda
1 teaspoon salt
1 1/4 cups Nestlé® Toll House® Semi-Sweet Chocolate Morsels
1 1/4 cups Nestlé® Toll House® Dark Chocolate Morsels
1 cup (2 sticks) butter, softened
3/4 cup granulated sugar
3/4 cup packed brown sugar
1 teaspoon vanilla extract
2 large eggs
In a small bowl, mix together flour, baking soda and salt. In a separate small bowl, combine the semi-sweet and dark chocolate morsels. Add 1 tablespoon of the flour mixture to the chocolate chips, tossing to coat each morsel. Set aside.
With an electric mixer, cream butter for 2 minutes, until light and fluffy. Add granulated sugar, brown sugar and vanilla extract; beat 1 minute, until fully incorporated. Add eggs one at a time, beating well after each addition. Gradually add flour mixture and combine well. Stir in morsels.
Refrigerate dough for at least 1 hour, or overnight. Once dough is chilled, shape into balls the size of golf balls. Place cookies on baking sheets lined with parchment paper or silicone baking sheets and bake at 375 degrees for 7-10 minutes, or to desired doneness. Remove from oven and let cool on baking sheets for 2 minutes before moving to wire racks to cool completely. Enjoy with a glass of cold milk or ice cream.
Beth's notes:
Do not skip the refrigeration step; it allows the gluten to relax a bit before you bake them, and it makes all the difference.
Feel free to make dough balls larger or smaller as needed. Simply adjust the baking time up or down, depending on the size.
You can freeze dough balls for up to 2 months. To bake, place frozen balls on lined baking sheets and let thaw for 5-10 minutes at room temperature. Bake as directed.
Miller Family Chili
Makes 6 to 8 servings
Spice Blend:
2 tablespoons chili powder
1 teaspoon ground cumin
1/4 teaspoon cayenne pepper
1/4 teaspoon garlic powder
1/2 teaspoon onion powder
2 teaspoons kosher salt
1/4 teaspoon freshly ground pepper
Ingredients:
2 tablespoons olive oil
1 sweet onion, chopped
4 cloves garlic, chopped
3 stalks celery, chopped, or 1 1/ 2 cups
1 pound ground beef
1 pound ground pork
1 28-ounce can crushed tomatoes, undrained
1 6-ounce can tomato paste
2 15.5-ounce cans kidney beans, rinsed and drained
1 cup beef broth
12 ounces Back Forty Beer Co.'s Naked Pig Pale Ale
Salt and pepper, to taste
Optional garnishes:
Avocado slices
Lime juice
Chopped cilantro
Sour cream
Cheddar cheese
Make the spice blend by combining the chili powder, cumin, cayenne pepper, garlic powder, onion powder, salt, and pepper in a small bowl. Set aside.
Heat olive oil in a large pot over medium-high heat. Add ground beef and ground pork, seasoning with salt and pepper, if desired. Cook, breaking meat apart, until lightly browned. Add the onion, garlic and celery and cook 5 minutes, stirring occasionally. Add Spice Blend and continue cooking, stirring occasionally, for 2 minutes. Stir in the crushed tomatoes, tomato paste, kidney beans, beef broth and beer. Bring to a boil, then reduce the heat to low and simmer, stirring occasionally, 45 minutes to 1 hour. Remove from heat, and season with salt and pepper to taste. Garnish with toppings of your choice.