Two outstanding students, JT Mumber (below, left) and Perian Reese (below, right), from the Auburn University College of Agriculture are recipients of the college's Student Marshal and Dean's Award. The final selection was made by the scholarship committee. We congratulate and honor all of our 2022 fall graduates.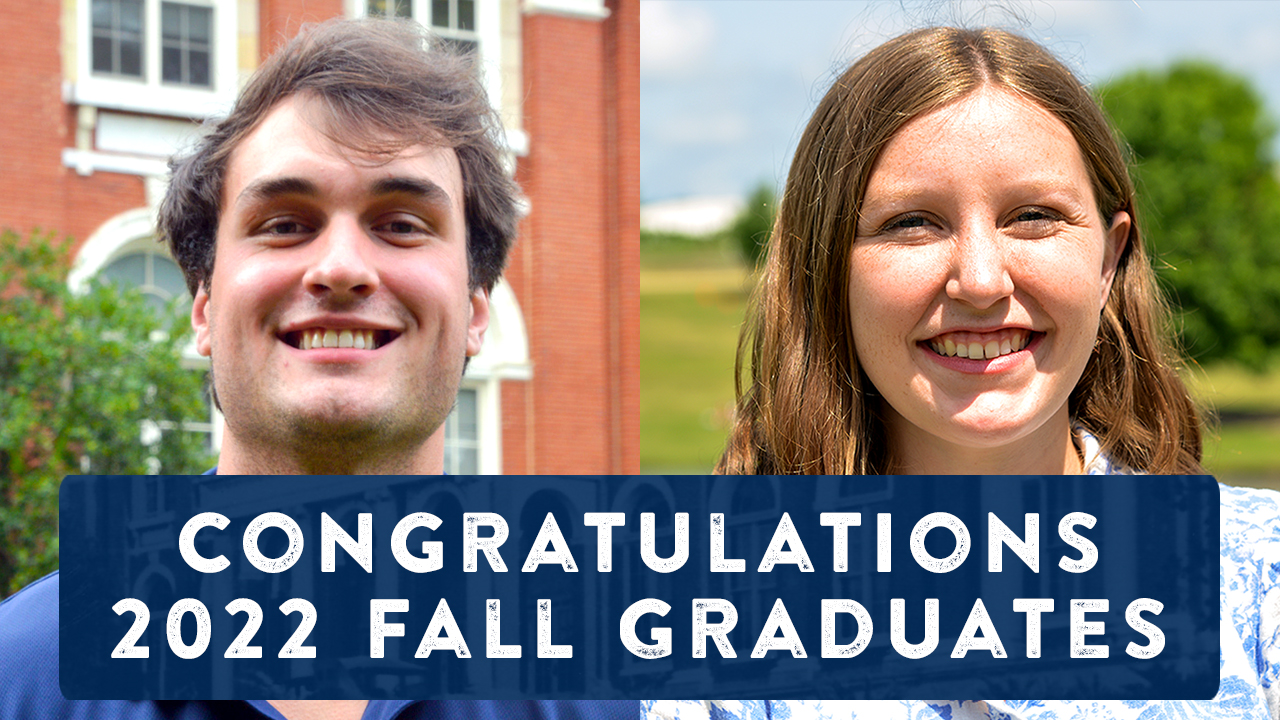 Student Marshal
John Thomas "JT" Mumber
JT Mumber is graduating with a Bachelor of Science in environmental science with a minor in fisheries. During his time at Auburn, he has served as a student instructor for ecology and a peer mentor, holding weekly office hours and biweekly sessions to assist students with their class material. Mumber has made the dean's list every semester at Auburn, is a member of Tau Sigma Honor Society, a recipient of the Auburn Agricultural Alumni Association Annual Scholarship, the Will Howard Smith Endowed Scholarship, the Hilmer L. Jones Fund for Excellence Scholarship, and the Soil and Water Conservation Scholarship. 
Dean's Award
Perian Reese
Perian Reese is graduating with a Bachelor of Science in food science and a minor in business. During her time at Auburn, she has served as a Peer Mentor in the College of Agriculture, planning events for undergraduate students in order to enhance their academic performance and supporting academic advising to assist those students. Reese is a recipient of the William E. Hardy Jr. Leadership Award, given to a student in the college that shows leadership and service. She has served as secretary of the Food Science Club, as social media chair of Feminists at Auburn, as a member of Honors Services, and as a driver for Meals on Wheels.
CONGRATULATIONS TO OUR 2022 FALL GRADUATES!
AGRICULTURAL BUSINESS & ECONOMICS DEGREE
Harris Glenn Baker
Thomas A Blackstock
Jocelynn Nicole Budwig
Tanner Sullivan Dunkin
Abby L Dunn
James C Hines
Conner Ross Hughes
Julianna M Kelly
William Thomas Stewart
Garet D Tillery
AGRICULTURAL COMMUNICATIONS DEGREE
AGRICULTURAL SCIENCE DEGREE
Adam Joseph Batchelor
Erick Junior Martinez Lopez
Taylor Douglas McCormack
Katelyn Brooke Passmore
Michael Phillips
Juliana C Rezek
Olivia C Stephenson
Kaitlyn Williams
Tanner B Wilson
Chase M Woods
Peyton Ward Zessin
ANIMAL SCIENCES – ALLIED INDUSTRIES DEGREE
Mary Ashtyn Bamberg
Shelby L Bircheat
Mikayla Jouliette Bobkoskie
Daniel R Garris
Jessica Rylee Kendrick
ANIMAL SCIENCES – PRODUCTION MANAGEMENT DEGREE
ANIMAL SCIENCES – MEAT SCIENCE DEGREE
ANIMAL SCIENCES – PRE-VETERINARY MEDICINE & PRE-PROFESSIONAL DEGREE
Ally M Ashworth
Audrey Raeann Brown
Khory Megan Moon Calenberg
Stevie L Fields
Jordan W Griffith
Celeste Enrika Johnson
James W Jones
Lauren A Joplin
Brooke Ashley Newell
Makalei L Shorter
Kasey F Smith
Bianca S Spencer
Morgan A Stevens
Kimberly Madison Turner
Catherine Marie Weldon
Macee R Wortz
APPLIED BIOTECHNOLOGY DEGREE
Walker Rhodes Olive
Kobe I Raper
CROP & SOIL SCIENCES – PRODUCTION DEGREE
CROP & SOIL SCIENCES – TURFGRASS DEGREE
Jacob Tyler Cherry
Bailey Ryan Price
ENVIRONMENTAL SCIENCE DEGREE
Branyon H Clarke
Emerson D Fenn
Susan G Iott
John T Mumber
Natalie M Rogers
FISHERIES, AQUACULTURE & AQUATIC SCIENCES DEGREE
John Coffey Irwin
Haynes W Waid
FOOD SCIENCE DEGREE
Perian M Reese
Nghia Trang Nguyen Minh
HORTICULTURE DEGREE
Stuart Elliot Cherniak
Holden M Dodson
Evan Ryan Dulaney
Sarah Alexandra Lahue
Tonia Marinaccio
Summer Dawn Parker
Cale Bernard Roberts
Scott B Seelbinder
Cody N Story
Samuel A Tomey
Sunny E Waller
POULTRY SCIENCE – PRODUCTION DEGREE
Henslee Marie Brindley
Jewel Emilyn Burger
Nathan H Duke
Joshua R Harris
Leah Cheslie Smith
Joseph Wiggins
POULTRY SCIENCE – PRE-VETERINARY MEDICINE & PRE-PROFESSIONAL DEGREE
COA Fall 2022 MASTER OF SCIENCE (MS) & MASTER OF AGRICULTURE (MAG) GRADUATES
MASTER'S IN AGRICULTURAL BUSINESS & ECONOMICS
Stuart Hunter Whatley, MS
MASTER'S IN ANIMAL SCIENCES
Jessica Lynn Caro, MS
Erin Elizabeth Mahoney, MS
Madison Paige Wagoner, MS
Micayla H West, MS
MASTER'S IN CROP, SOIL & ENVIRONMENTAL SCIENCES
William Byrd, MAG
Matthew Tyler Carter, MAG
Troy Lee Clift, MS
Andrew Louis Edrington, MAG
Chloe Mae Eggert, MS
Hayden Matthew Hambrick, MAG
John R Lawhon, MS
Anna Laura Powell, MS
Matthew D Price, MAG
Mason Miller Ross, MAG
Tyler Michael Sams, MAG
Navdeep Singh Sidhu, MS
Kathryn Nicole Strain, MS
Michelle Tadych, MAG
Warren Harold Wagner, MAG
MASTER'S IN FISHERIES, AQUACULTURE & AQUATIC SCIENCES
Ayesha Rafiqul Alam, MS
Logan Richard Bern, MS
Rachel Marie Moore, MS
Leila Mary Strebel, MS
MASTER'S  IN PLANT PATHOLOGY
Sloane Elizabeth McPeak, MS
Eric Gregory Melby, MS
Oluwakemisola Esther Olofintila, MS
MASTER'S IN POULTRY SCIENCE
Susan Michelle Bonilla Rosales, MS
Cesar Escobar Lobo, MS
Caroline Rose Gregg, MS
Montana Rain Riggs, MS
Jorge Luis Sandoval Escobar, MS
Jose Isaac Vargas Patino, MS
Brittany Lee Wall, MS
MASTER'S IN POULTRY SCIENCE – FOOD SCIENCE
Andrea Lucia Urrutia Giron, MS
2022 FALL DOCTOR OF PHILOSOPHY & CERTIFICATE GRADUATES
PHD IN BIOSYSTEMS ENGINEERING
Tawsif Rahman
Poulami Roy
CERT. IN CROP, SOIL & ENVIRONMENTAL SCIENCES
Matthew Tyler Carter
Tosha Nicole Gillispie
PHD IN CROP, SOIL & ENVIRONMENTAL SCIENCES
PHD IN FISHERIES, AQUACULTURE & AQUATIC SCIENCES
Matthew Robert Lewis
Cuiyu Lu
PHD IN POULTRY SCIENCE
Maria Tereza Bethonico Terra
Joshua J Flees
Stephanie C Philpot