Background & History of Engagement with Cuba by Auburn Faculty
Auburn University has a long history of partnering with Cuban universities beginning more than thirty years ago in the areas of plant science, nematology and plant pathology. With the recent leadership changes in Cuba, Auburn saw the opportunity to establish close cooperation in research, instruction and outreach with Cuban universities and agencies. In the last five years, several meetings were held between Auburn College of Agriculture faculty and Cuban scientists within and outside Cuba. This long-term relationship resulted in the signing of a formal broad trilateral treaty for cooperation between the Auburn University College of Agriculture, the Agrarian University of Havana (UNAH), and the Centro Nacional de Sanidad Agropecuaria (CENSA) during a visit to Cuba in May 2015 by a delegation from Auburn's College of Agriculture.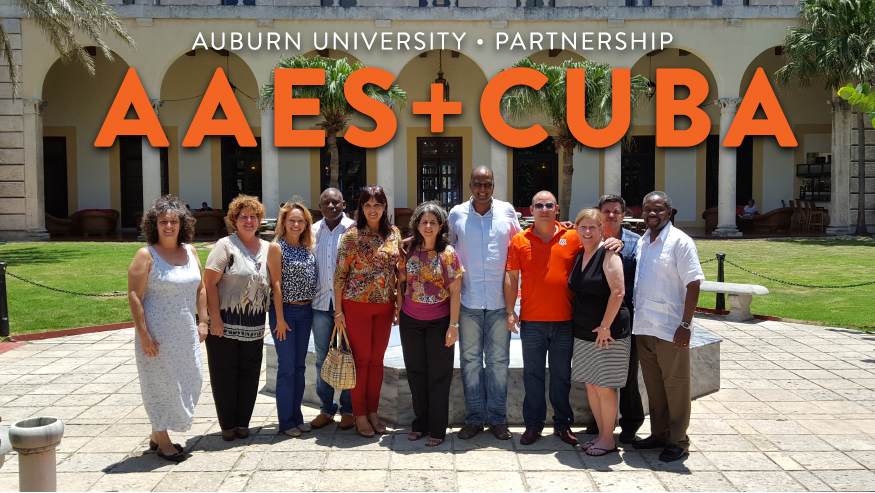 This landmark agreement has enjoyed remarkable attention and support nationally in the U.S. and in Cuba, including several press releases, such as Auburn University News, Miami Herald and Alabama Local News. During a follow-up visit to Cuba by some Auburn faculty members and administrators in October 2015, a strategic planning meeting conducted with Cuban partners led to the identification of key academic priorities, including the development of research projects and short courses in the areas of plant / animal health and food systems.
In addition to UNAH and CENSA, Auburn faculty have also developed academic relationships with other Cuban institutes, including the Pasture and Forage Research Institute – Indio Hatuey, the Soil Institute of Cuba, the Instituto de Investigaciones de Sanidad Vegetal (INISAV) and the Cuban Ministry of Agriculture.
The VIII Seminario Científico Internacional de Sanidad Vegetal - 2017 Cuba
Alana Jacobsen, David Held, Edward Sikora, Beth Guertal, David Held, Kathy Lawrence and Patricia Donald all attended and gave presentations at the VIII Seminario Científico Internacional de Sanidad Vegetal 2017 Cuba, held in Havana, Cuba in April, 2017. While at the meetings they met with our Cuban collaborators to plan future research studies, and toured Cuban agricultural laboratories and production facilities. In May of 2017 Beth Guertal was a participant in a study abroad trip run in conjunction with Texas A&M University and the Organization for Tropical Studies (OTS).  Conducted as a 14-day course, the students stayed and worked at the research station in Indio Hatuey, Cuba, while also visiting research farms, production farms, alternative medicine shops, and the tourist center of Varadero. This trip was a collaboration with students from many different places, and included Cuban agriculture students from the University of Matanzas.
Capacity Building for Detection of Avian Influenza Virus and Safe Disposal of Organic Materials in Case of an Outbreak
A 2-year grant was provided by the Alabama Agricultural Experiment Station to begin the first of its kind collaboration with 2 institutions in Cuba. In 2015, Dr. Giambrone visited CENSA and the Universidad Agraria de la Havana to set up a program for collaboration on aspects of commercial poultry and backyard flock health and management. Drs. Giambrone and Pacheco visited Cuba in October 15, 2016 to lecture on the detection, prevention, and control of avian influenza virus (AIV), and other important diseases of poultry. Farm management, feed milling, and nutrition were also discussed. In the past 5 years, AIV has caused catastrophic disease in 77 countries resulting in the death or depopulation of 1 billion poultry. In addition, in China, South East Asia, and the Middle East approximately 2,000 people have become ill with a strain of AIV resulting in the death of 1,000.Recently Hurricane Irma caused damage in 135 layer houses in Northern Cuba resulting in the death of tens of thousands of layers and sufficient damage to their houses. Our composting methods are being used in the disposal of the carcasses.
In November of 2017, Dr. Giambrone presented a keynote address at the Agrociencs Congress in Havana on Commercial Poultry Production in the US. Drs. Alfonso and Perera will visit Auburn in January or 2018 to learn laboratory techniques needed for the isolation and characterization of AIVs. They attended and presented their research at the Southern Conference of Avian Disease and the IPPE show in Atlanta from Jan 30 to Feb 2. Both trips are sponsored from an $8778 grant from The World Poultry Foundation.
IMPACT. Alabama's poultry industry produces in excess of billon broilers chickens per year resulting in 15 billon dollars to its economy. This figure is more than all other agricultural industries combined. The presence of AIV in 2 breeder flocks in Alabama this spring result in the death and depopulation of the flocks and a partial ban of all poultry exports in the state. This strain of AIV does not affect people. Continual surveillance of poultry flocks in the US and Cuba needs to be done to avoid future outbreaks of AIV.
The International Congress of Agricultural Sciences (AGROCIENCIAS 2017)
The International Congress of Agricultural Sciences (AGROCIENCIAS 2017), was held at the Convention Center of Havana, Cuba, from November 20 to 24, 2017, with the aim to provide a space for foreign and national specialists in different fields of Agricultural Sciences, can meet and exchange criteria on the development achieved in the topics to be addressed. To learn more about this meeting, please visit: http://www.agrocienciascuba.com/es/default/principal
Here is a summary of Auburn University's participation during the Agrociencias 2017 meeting:
Auburn University had an important participation during the meeting. The Modeling workshop (session) scheduled for November 20th and November 21st was a new addition to the meeting.
This session was added to the program as a result of the one of the projects Dr. Brenda Ortiz is leading in Cuba with the partnership of UNAH and University of Florida. The speakers during this session were from the USA and Cuba.
Dr. Nedret Billor from AU College of Sciences and Mathematics (COSAM) was also a speaker to this session. She is a professor in Statistics and was exploring potential collaboration opportunities. The faculty from UNAH was very excited with the presentation and expertise. I hope something more will result from that interaction.
Dr. Joseph Giambrone was a Keynote speaker at the meeting on Tuesday morning.
2017 AAES-CUBA GRANT PROJECTS PROGRESS
Dr. Kathy Lawrence and Dr. Pat Donald – Project title: Identification and Quantification of Plant-Parasitic Nematodes with Potential for Limiting Quality Turf in Cuban Golf and Tourist Facilities
The group's plans are to continuing for a trip to Cuba by Auburn faculty and a graduate student to collect soil samples from turf areas of sports fields, golf course, and sod research trials. The areas to be visited have been identified and communication between Auburn faculty and two potential Cuban facilitators has been initiated for our group to sample turf areas from the southern part of the island to Indio Hatuey turf research trials and the Varadero golf course in the northern edge of the island. In preparation for comparison of turf nematodes in Cuba and Alabama, soil sampling by our Cuban nematology cooperator, Dr. Mayra Rodriguez, was started in December 2017. The Auburn University graduate student, Will Groover, sampled and extracted plant-parasitic nematodes from trials at the AU Turf Farm in November 2017. An APHIS permit to bring soil from Cuba into the US has not been granted yet and therefore we have been experimenting with a preservative used by other nematologists that fixes the nematodes and yet allows later extraction of DNA for molecular studies. We have also been in communication with other nematologists who have APHIS permits which would allow importation of soil from Cuba.
Progress on brining Dr. Mayra Rodriguez, our Cuban nematology cooperator to AU has been stalled due to political constraints. Until relations between Cuba and the US improve, we do not anticipate a visa being issued for Dr. Rodriguez's visit.
Dr. Brenda Ortiz – Project title: Building Capacity among Cuban Scientists in the Application of Crop Simulation Models and Decision Support Systems (MINI-GRANT)
This project was initiated in 2016 thanks to funding received from the AAES-Cuba Grants Program and the office University Outreach. In 2017, funds from Ortiz's research program were used to travel to Cuba to conduct Phase II of the crop growth simulation modeling training initiated in 2016. A three-day meeting with the participants from the 2016 training was conducted. The goal of this phase II training was to address questions from the participants, support them with continuation of small crop-growth simulation-based projects initiated after the 2016 workshop, and provide additional training on the use of crop simulation models. A group of 20 people attended the workshop. The participants were from the Agrarian University of Havana (UNAH), Instituto de Investigaciones de Ingeniería Agrícola (IAGRIC), Instituto Nacional de Ciencias Agrícolas (INCA), Instituto Nacional de Investigaciones de la Caña de Azúcar (INICA), Instituto de Meteorología (INSMET). Each group provided a progress report of activities associate to projects started as a result of the 2016 training. The group provided feedback to each group member about their projects, we also discussed project setup into the model and model runs. A discussion of potential submission of abstracts from the crop growth modeling work conducted by the different group members was held. Because of the efforts initiated in 2016, the Agrarian University of Havana (UNAH), the main organizer of the International meeting AGROCIENCIAS, asked our help with organizing the first simulation modeling session to be included in AGROCIENCIAS. Brenda Ortiz, provided suggestions on the structure of the session, potential USA invitees and speakers.
The International meeting AGROCIENCIAS took place in Cuba on November 20-24, 2017. The simulation modeling session (oral and poster session) was scheduled for November 20 and 21, 2017. The two oral sessions were attended by 60-70 participants from not only Cuba but other countries like USA, Colombia, Mexico, and Argentina. Brenda Ortiz, was the moderator of the two oral sessions. She also gave an oral presentation. Dr. Gerrit Hoogenboom, Professor from University of Florida and Co-PI on this project was invited to give the Keynote talk during this session. Seven presentations from members of the Cuba-crop growth simulation modeling working group were included in the session.
There is not additional funding to continue this project. Then, it is not clear when we can continue this work.
Dr. Brenda Ortiz, Dr. Eve Brantley, Dr. Thorsten Knappenberger and Dr. Joey Shaw – Project title: Evaluation of Agronomic Management on Soil and Environmental quality of Red Ferralitic Landscapes in Mayabeque Province, Cuba
In winter of 2017 (February 27th – March 3rd) , Auburn University Crop, Soil and Environmental Sciences (CSES) faculty (Brenda Ortiz, Eve Brantley, Thorsten Knappenberger, Julie Howe and Joey Shaw) visited Cuba to develop strategies for potential collaborative research and instruction. This visit was funded by the 2016 AAES-Cuba Grants Program, proposal title: "Develop strategies to evaluate land use management for sustainable food production and environmental protection (Integrated proposal)." A workshop with Auburn faculty and representatives from the Agrarian University of Havana (UNAH), the National Institute of Agricultural Sciences (INCA), and the Institute of Agricultural Engineering (IAGRIC) was held during February 27th – March 3rd. Presentations were made and group discussions centered upon developing strategies for increasing crop production while fostering soil and environmental quality.
In addition to classroom workshop activities, facilities tours included UNAH laboratories, an instructional outlying unit (Héctor Molina), and the largest and oldest agricultural cooperative ("Cuban – Bulgarian Friendship") in the Mayabeque province. A field tour of crops, soils, and center pivot irrigation system was held at the cooperative which was a vital complement to classroom activities to more fully illustrate and understand issues. In addition, the CSES faculty also met with Institute of Soils scientists in Havana where further discussions on soil and related issues were had. Following the classroom and field activities, main needs and problems were identified. Cuban scientists provided background on the complex issues surrounding several agronomic problems, and the Auburn faculty highlighted areas of expertise that are potentially of assistance for addressing some of these problems. The aggregate of these activities illustrated that future collaboration should center on instruction and research associated with declining productivity and soil and environmental quality.
Mayabeque providence is the major potato growing region that produces over a third of the potatoes for Cuba and supplies most of the food for Havana. Because of this, it was agreed that the Mayabeque province, where the Cuban-Bulgarian Friendship agricultural cooperative is located, provides the best location for research and extension activities. This region has a high proportion of relatively clayey Red Ferralitic soils (25%) which have declined in soil quality over the last several decades resulting in reduced productivity.
The trip in 2017 allowed the identification of the research problem, specific objectives and preliminary methodology to follow for the development of the research project. The start date of this project's activities was planned initially for early Fall 2017 and then later moved to January 2018. Unfortunately, the Agrarian University of Havana suggested moving this planned January 2018 trip to late Spring or early Summer 2018. Below some pictures of the interactions between Auburn and Cuban Scientists during the March 2017 trip.
Dr. Arthur G. Appel – project title: Identification of novel botanical pesticides for sustainable urban pest management (mini-grant)
Management of urban insect pests such as cockroaches, and houseflies has become increasingly difficult due to the development of physiological resistance to conventional insecticides. Botanical pesticides based on naturally occurring essential oils stand out as products with multiple application possibilities in agriculture and other fields. The goal of this mini‐grant project was to evaluate selected Cuban plant extracts (essential oil and organic extracts) for their toxicity against several important urban insect pests and to chemically characterize the bioactive essential oil(s) and components of these extracts using bio‐fractionation and GC‐MS techniques.
In October 2016, AU Department of Entomology and Plant Pathology (EPP) faculty Dr. Arthur G. Appel and Marla J. Eva visited Cuba's National Centre for Plant and Animal Health for one week. Two seminars were presented ("Research in Urban Pest Control Using Natural Products" and "Cockroach Identification and Management") with the participation of researchers, specialists and students from CENSA, Instituto Medicina Tropical "Pedro Kourí" (IPK) and Havana University; the exchange of experiences regarding key insect pests (including mosquitoes) and their management was promoted. Several meetings were carried out with CENSA´s researchers regarding mini-grant project activities like plants selection and bioassays methodologies for testing natural products; additionally, technical details about evaluation of the effect of toxicants on different insect states for both urban and stored-product pests were debated. The use of entomopathogenic nematodes for the control of cockroaches was also discussed; combination of nematodes and natural products was identified as a potential innovative alternative for management and a medium-term objective for the bilateral collaboration. The Cooperative for Agricultural Production (CPA) "Rosa E. Simeón", specialized in the production of neem pesticides and biological control agents and the National Botanical Garden were visited; these institution are key potential partners in future collaboration related to the agroindustrial production of botanical pesticides and bioprospecting of Cuban flora, respectively. Contact was made with Intellectual Property Specialist and Directors of International Collaboration and Trade and Plant Health.
In February 2017, Dr. Oriela Pino Perez visited Auburn University for two weeks for chemical analysis of the essential oils from wild species and plants cultivated in Cuba, she also was involved in the determination of their efficacy using both fumigant and contact toxicity bioassays of key insect pest affecting plants, animals, and public health. Analysis of the chemical composition of essential oils, from 12 plant species, using GC-MS and the determination of Retention Indices were conducted with selected analytical conditions. Data for the quantification of the main components (7 compounds) in the bioactive oils was obtained. A total of 114 GG-MS analyzes were performed, related to the determination of chemical composition of the pure oils and quantification of the main components, including samples of the essential oil from Piper aduncum subsp. ossanum (Piperaceae) collected every month during 4 years (this oil was previously identified as a promising candidate for its broad spectrum of antibacterial activity).
It is proposed to continue of collaboration in the following aspects:
Complete the development of innovative product(s), based on essential oil(s) and(or) artificial blends, for control of key urban pests control;
Determine the influence of chemical variability on insecticidal activity, through the chemical characterization and biological evaluation of several batches of the most promising candidate(s), blends of the main components and essential oils from other chemotaxonomically related plants (including endemic species);
Evaluate synergistic effects in natural and synthetic mixtures (which affect penetration, toxicity and/ or decomposition and can be the basis for novel formulations);
To study in depth behavior and physiological effects of the most promising candidates against both susceptible and resistant strains; and
Determine the spectrum of action on other indoor insect pests like other species of cockroaches, mosquitoes.
The outputs of the collaboration can be products (short-term based on oils classified as General Regarded As Safe (GRAS)), patents (greater strength in new compounds of endemic plants) and publications (some outlined with the counterpart from these activities). The work done is the basis for other collaborative projects related to the development, production and commercialization of natural products.
Graduate Degrees & Programs
E.T.& Vam York International Seminar
3+2 Chinese Graduate Student Programs
Global Programs Advisory Committee (GPAC)
OUC+AU Research Collaborations