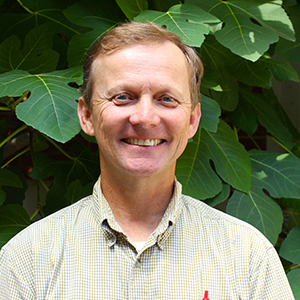 Address:
101 Funchess Hall
Auburn Univ, AL 36849
Biography
EDUCATION
B.S. Auburn University
M.S. Mississippi State University
Ph.D. Auburn University
PROFESSIONAL EXPERIENCE
2008–Present Associate Professor
2003–2008 Assistant Professor
1995–2003 Pesticide Education Specialist, Entomology & Plant Pathology Department, Auburn University.
1991–1995 Extension Associate, Department of Entomology, Auburn University.
SELECTED HONORS AND AWARDS
Educator Award. North American Colleges and Teachers of Agriculture. 2021.
Outstanding Faculty. College of Agriculture. 2021.
Auburn University Alumni Undergraduate Outstanding Teaching Award. 2010.
PROFESSIONAL AFFILIATIONS
American Society of Horticultural Science
Weed Science Society
Southern Region – Weed Science Society
Research
Responsibilities include vegetable production systems, pecan pest management, vegetable and fruit pest management.
Courses
HORT 4000 – Pesticide Management in Horticulture (Fall)
HORT 5130/6130 – Sustainable Vegetable Crop Production (Spring; Summer)
HORT 2030 – Vegetable Production (Fall, Spring, Summer)
HORT 5120/6120 – Small Fruit and Pecan Culture (Spring), Co-teacher
Publications
Foshee W.G. Historic agricultural sciences major returns with significant impact. 2021. NACTA Journal 65:58-61.
Foshee W.G., T.A. Monday, E.K. Blythe and G. Wehtje. Response of Yellow Nutsedge (Cyperus esculentus) to Preemergence Herbicides and Nonionic Surfactants Applied Through Drip Irrigation Under Low-Density Polyethylene Mulch. International Journal of Weed Science and Technology. Vol. 3 (1), pp. 077-083, March, 2020.
Hand, L.C., W.G. Foshee III, T.A. Monday and J.L. Sibley. 2018. Long-term Weed Control for Landscape Pecan (Carya illinoinensis) Trees. J. Environ. Hort. 36(2)82-85. June 2018.
Hand, L.C., W.G. Foshee III, T.A. Monday, D.E. Wells, and D.P. Delaney. 2018. Preemergence Herbicides Applied Pre- and Postcrimp in a Rye Cover Crop System for Control of Escape Weeds in Watermelon. HortTechnology 28: 117-120.
Pek, Z, L. Helyes, G. Gyulai, WG Foshee, HG Daood, J. Lau, S Vinogradov, A. Bittsanszky, W. Goff, and L. Waters, Jr. 2016. Molecular profiling – fruit carotenoids components of six American heirloom tomatoes (Solanum lycopersicum). J. Forensic Biomed, Vol 7(2).