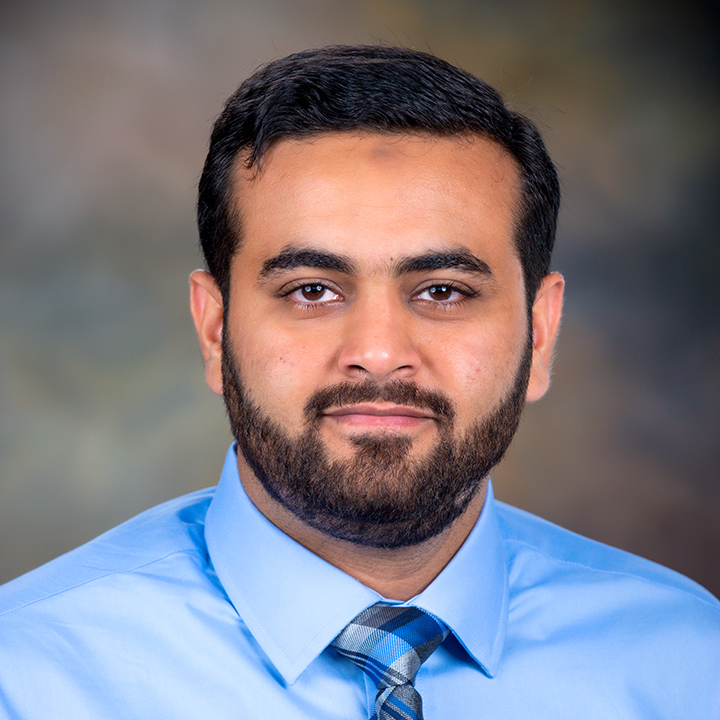 Biosystems Engineering / Horticulture
Address:
306 Corley Building
Auburn Univ, AL 36849
Biography
EDUCATION
Ph.D. Agricultural & Biological Engineering, Purdue University
M.S. Agricultural Sciences, Dalhousie University, Canada
B.S. Agricultural Engineering, University of Agriculture, Faisalabad, Pakistan
PROFESSIONAL EXPERIENCE
2022 – Present  Assistant Professor, Department of Biosystems Engineering, Horticulture, Auburn University
2017 – 2022 Graduate Research Assistant, Purdue University
2015 – 2017 Graduate Scholar, Dalhousie University, Canada
2014 – 2015 Lecturer, University of Agriculture, Faisalabad, Pakistan
HONORS & AWARDS
2021 – Outstanding Graduate Student Research Award, Agricultural and Biological Engineering, Purdue University, USA (USD 2000)
2016-2017 Nova Scotia Innovation and Research Graduate Scholarship-M.Sc., Government of Nova Scotia, Canada. (CAD 10,000)
2016-2017 Competitive Scholarship for Research in Wild Blueberry Industry, Department of Agriculture, Aquaculture and Fisheries, New Brunswick, Canada (CAD 22,500)
2015-2016 Nova Scotia Innovation and Research Graduate Scholarship-M.Sc., Government of Nova Scotia, Canada. (CAD 10,000)
2015-2016 International Graduate Student Entrance Scholarship award, Dalhousie University, Canada (CAD 6,000)
2015-2016 Gordon B. Kinsman Memorial Graduate Scholarship, Dalhousie University, Canada (CAD 1,500)
2016 Travel Grant, Faculty of Graduate Studies, Dalhousie University, Canada (CAD, 500)
2014 Two Gold Medals (Class of 2013), Agricultural Engineering, University of Agriculture, Pakistan (awarded annually to 1st student in Agricultural Engineering undergraduate program. Total strength = 140)
2013 Outstanding Undergraduate Student (Class of 2013), Agricultural Engineering, University of Agriculture, Pakistan
2009-2013 Dean's List (all semesters), Agricultural Engineering, University of Agriculture, Pakistan
PROFESSIONAL AFFILIATIONS
American Society of Agriculture and Biological Engineers
American Society for Horticultural Science
Canadian Society of Biological Engineers
Pakistan Society of Agricultural Engineers
Research
Artificial Intelligence
Computer Vision
Automation
Robotics
Precision Horticulture
Publications
Khan, M. U., ur Rehman, M. M., Sultan, M., Rehman, T. U., Sajjad, U., Yousaf, M., & Asif, M. (2022). Key prospects and major development of hydrogen and bioethanol production. International Journal of Hydrogen Energy, 47(62), 26265. https://doi.org/10.1016/j.ijhydene.2022.06.224
Rehman, T. U., Zhang, L., Ma, D., & Jin, J. (2022). Common Latent Space Exploration for Calibration Transfer across Hyperspectral Imaging-Based Phenotyping Systems. Remote Sensing, 14(2), 319. https://doi.org/10.3390/rs14020319
Ma, D., Rehman, T. U., Zhang, L., Maki, H., Tuinstra, M. R., & Jin, J. (2021). Modeling of Environmental Impacts on Aerial Hyperspectral Images for Corn Plant Phenotyping. Remote Sensing, 13(13), 2520. https://doi.org/10.3390/rs13132520
Ma, D., Rehman, T. U., Zhang, L., Maki, H., Tuinstra, M. R., & Jin, J. (2021). Modeling of diurnal changing patterns in airborne crop remote sensing images. Remote Sensing, 13(9), 1719. https://doi.org/10.3390/rs13091719
Rehman, T. U., Ma, D., Wang, L., Zhang, L., & Jin, J. (2020). Predictive spectral analysis using an end-to-end deep model from hyperspectral images for high-throughput plant phenotyping. Computers and Electronics in Agriculture, 177, 105713. https://doi.org/10.1016/j.compag.2020.105713
Rehman, T. U., Zhang, L., Ma, D., Wang, L., & Jin, J. (2020). Calibration transfer across multiple hyperspectral imaging-based plant phenotyping systems: I–Spectral space adjustment. Computers and Electronics in Agriculture, 176, 105685. https://doi.org/10.1016/j.compag.2020.105685
Rehman, T. U., Zhang, L., Wang, L., Ma, D., Maki, H., Sánchez-Gallego, J. A., Mickelbart, M. V., & Jin, J. (2020). Automated leaf movement tracking in time-lapse imaging for plant phenotyping. Computers and Electronics in Agriculture, 175, 105623. https://doi.org/10.1016/j.compag.2020.105623
Wang, L., Jin, J., Song, Z., Wang, J., Zhang, L., Rehman, T. U., Ma, D., Carpenter, N., & Tuinstra, M. R. (2020). LeafSpec: An accurate and portable hyperspectral corn leaf imager. Computers and Electronics in Agriculture, 169, 105209. https://doi.org/10.1016/j.compag.2019.105209
Wang, L., Duan, Y., Zhang, L., Rehman, T. U., Ma, D., & Jin, J. (2020). Precise Estimation of NDVI with a Simple NIR Sensitive RGB Camera and Machine Learning Methods for Corn Plants. Sensors, 20(11), 3208. https://doi.org/10.3390/s20113208
Zhang, L., Wang, L., Wang, J., Song, Z., Rehman, T. U., Bureetes, T., Ma, D., Chen, Z., Neeno S., & Jin, J. (2019). Leaf Scanner: A portable and low-cost multispectral corn leaf scanning device for precise phenotyping. Computers and Electronics in Agriculture, 167, 105069. https://doi.org/10.1016/j.compag.2019.105069
Khan, M. U., & Rehman, T. U. (2019). Early trends, current status and future prospects of farm mechanization in Asia. Agricultural Engineering International: CIGR Journal, 21(3), 76-87.
Ma, D., Carpenter, N., Maki, H., Rehman, T. U., Tuinstra, M. R., & Jin, J. (2019). Greenhouse environment modeling and simulation for microclimate control. Computers and electronics in agriculture, 162, 134-142. https://doi.org/10.1016/j.compag.2019.04.013
Rehman, T. U., Zaman, Q. U., Chang, Y. K., Schumann, A. W., & Corscadden, K. W. (2019). Development and field evaluation of a machine vision based in-season weed detection system for wild blueberry. Computers and Electronics in Agriculture, 162, 1-13. https://doi.org/10.1016/j.compag.2019.03.023
Zhang, L., Maki, H., Ma, D., Sánchez-Gallego, J. A., Mickelbart, M. V., Wang, L., Rehman, T. U., & Jin, J. (2019). Optimized angles of the swing hyperspectral imaging system for single corn plant. Computers and electronics in agriculture, 156, 349-359. https://doi.org/10.1016/j.compag.2018.11.030
Rehman, T. U., Mahmud, M. S., Chang, Y. K., Jin, J., & Shin, J. (2019). Current and future applications of statistical machine learning algorithms for agricultural machine vision systems. Computers and electronics in agriculture, 156, 585-605. https://doi.org/10.1016/j.compag.2018.12.006
Rehman, T. U., Zaman, Q. U., Chang, Y. K., Schumann, A. W., Corscadden, K. W., & Esau, T. J. (2018). Optimising the parameters influencing performance and weed (goldenrod) identification accuracy of colour co-occurrence matrices. Biosystems Engineering, 170, 85-95. https://doi.org/10.1016/j.biosystemseng.2018.04.002
Chang, Y. K., Zaman, Q. U., Rehman, T. U., Farooque, A. A., Esau, T., & Jameel, M. W. (2017). A real-time ultrasonic system to measure wild blueberry plant height during harvesting. Biosystems engineering, 157, 35-44. https://doi.org/10.1016/j.biosystemseng.2017.02.004
Rehman, T. U., Khan, M. U., Tayyab, M., Akram, M. W., & Faheem, M. (2016). Current status and overview of farm mechanization in Pakistan–A review. Agricultural Engineering International: CIGR Journal, 18(2), 83-93.
Ghafoor, A., Rehman, T. U., Munir, A., Ahmad, M., & Iqbal, M. (2016). Current status and overview of renewable energy potential in Pakistan for continuous energy sustainability. Renewable and Sustainable Energy Reviews, 60, 1332-1342. https://doi.org/10.1016/j.rser.2016.03.020
SUBMITTED MANUSCRIPTS
Rehman, T. U., Zhang, L., Ma, D., & Jin, J. Deep adversarial domain adaptation for calibration transfer among plant phenotyping systems. Biosystems Engineering (Under review).
Zhang, L., Jin, J., Wang, L., Rehman, T. U., Ma, D., & Gee, T. M. Eliminating crop leaf angle impacts on plant reflectance using fusion of hyperspectral images and 3D point clouds. Computers and Electronics in Agriculture (Under review).
BOOK CHAPTERS
Chang, Y. K., & Rehman, T. U. (2017). Current and future applications of cost-effective smart cameras in agriculture. In Robotics and Mechatronics for Agriculture (pp. 75-120). CRC Press.
Jin, J., Rehman, T. U., & Zhang, Q. (2022). Advances in optical analysis for crop phenotyping. In Advances in Plant Phenotyping for More Sustainable Crop Production (pp. 61-97). Burleigh Dodds Science Publishing Ltd.