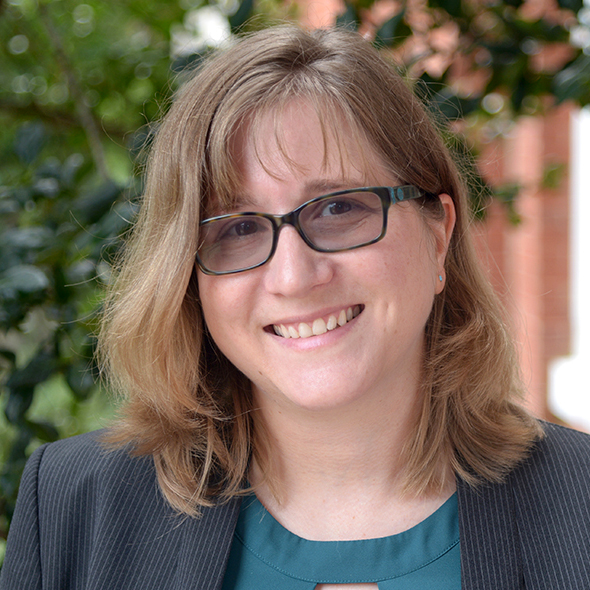 Entomology & Plant Pathology
Address:
301 Funchess Hall
Auburn Univ, AL 36849
Biography
EDUCATION
2011 Ph.D. Plant Pathology, University of Kentucky, Lexington
2005 M.S. Plant Sciences, University of Arizona, Tucson
2002 B.S. Biology, University of Nevada, Reno
PROFESSIONAL EXPERIENCE
August 2019-Present Assistant Professor, Auburn University, Auburn, AL
July 2017-August 2019 Post-doctoral Fellowship, North Carolina State University, Raleigh, NC
September 2014-July 2017 Post-doctoral Fellowship, Kansas State University, Manhattan, KS
June 2011-September 2014 Research Plant Pathologist, USDA-ARS, Ames IA
August 2005-June 2011 Research Assistant, University of Kentucky, Lexington, KY
Research
My lab is interested at looking at new and divergent plant viruses in the state of Alabama, including cotton leafroll dwarf virus (CLRDV). CLRDV is the causal agent of cotton blue disease and causes leaf curling, reddening on the leaves, stunting and yield loss on cotton plants. This virus is vectored by aphids in a circulative, non-persistent manner and understanding the complex relationship between the virus, aphids, cotton and other infected weedy species is critical for the management of this disease. As the identification of this virus as a causal agent of disease in Alabama was done in 2018, work understanding the genetics and proteins of CLDV is in its infancy compared to other viruses which share a similar genome organization and vector transmission. To do this work, we plan on utilizing modern sequencing techniques to understand the transcriptome of both the aphids and the infected plants, microscopy to understand localization, and cloning techniques to better understand this virus and how to manage it in the field.
Tomato spotted wilt virus (TSWV) and Soybean vein necrosis virus (SVNV) are also of interest to understand how viruses that infect both plants and insects are able to function. We are interested in the conserved or divergent mechanisms between such different host cells. To do this work, we utilize microscopy to look at viral proteins in plant cells such as soybean, tobacco and insect cells (Sf9) to determine the localization of viral proteins in the presence and absence of infection. We also look at protein-protein interactions, both virus-virus and virus-host interactions to determine if these are conserved between insects and plants. Since both viruses are in the same viral genus, it is also important to look at the differences and similarities between the two viruses to understand more about the infection cycle in a shared host such as Nicotiana benthamiana. This comparison will prompt new discoveries about how viruses are different even when they seem very similar.
Publications
SELECT PUBLICATIONS
Martin, K.M. and Whitfield, A.E. (2019) Complete genome sequence of Maize mosaic virus. Microbiol Resour Announc. 8: e00637-19.
Badillo-Vargas, I., Chen, Y., Martin, K.M., Rotenberg, D., and Whitfield, A.E. (2019) Discovery of novel thrips vector proteins that bind to the viral attachment protein of the plant bunyavirus, tomato spotted wilt virus. JVI. 00699-19.
Martin, K. and Whitfield A.E. (2018) Cellular localization and interactions of viral proteins of a nucleorhabdovirus are conserved between insect and plant cells. Virology. 523: 6-14.
Majee, M., Kumar, S., Kathare, P.K., Wu, S., Gingerich, D., Nayak, N.R., Salaita, L., Dinkins, R., Martin, K., Goodin, M.G., Dirk, L.M.A., Lloyd, T.D., Zhu, L., Chappell, J., Hunt, A.G., Vierstra, R., Huq, E. and Downie, A. B. (2018) KELCH F-BOX protein positively influences seed germination by targeting PHYTOCHROME-INTERACTING FACTOR1. PNAS. 115(17): E4120-E4129.
Martin, K.M., Barandoc-Alviar, K., Schneweis, D.J., Stewart, C.L., Rotenberg, D. and Whitfield, A.E. (2017) Transcriptomic response of the insect vector, Peregrinus maidis, to Maize mosaic rhabdovirus and identification of conserved responses to propagative viruses in hopper vectors. Virology. 509: 71-81.
Martin, K.M., Singh, J., Hill, J.H., Whitham, S.A. and Cannon, S.B. (2016) Dynamic Transcriptome Profiling of Bean common mosaic virus (BCMV) Infection in Common Bean (Phaseolus vulgaris L.). BMC Gen. 17(1) 613.
Martin, K.M., Hill, J.H. and Cannon, S. (2014) Occurrence and Characterization of Bean common mosaic virus Strain NL1 in Iowa. Plant Dis. 98 (11) 1593.
Dietzgen, R., Martin, K., Anderson, G. and Goodin, M.M. (2012) In planta localization and interactions of Impatiens necrotic spot tospovirus proteins. J. Gen. Virol. 93: 2490-2495.
Martin, K., Dietzgen, R., Wang, R., Goodin, M.M. (2012) Lettuce necrotic yellows cytorhabdovirus protein localization and interaction map, and comparison with nucleorhabdoviruses. J. Gen. Virol. 93: 906-14.
Martin, K., Kopperud, K., Chakrabarty, R., Banerjee, R., Brooks, R. and Goodin, M.M. (2009) Transient expression in Nicotiana benthamiana fluorescent marker lines provides enhanced definition of protein localization, movement and interactions in planta. Plant J. 59:150-162.
REVIEWS
Whitfield, A. E., Huot, O. B., Martin, K.M., Kondo, H., and Dietzgen, R. G. (2018) Plant Rhabdoviruses- their origins and vector interactions. Curr. Opin Virol. 33:198-207.
Whitham, S. A., Eggenberger, A. L., Zhang, C., Chowda-Reddy, R. V., Martin, K. M., Hill, J. H. (2015). Recent advances in in planta transient expression and silencing systems for soybean using viral vectors. In Recent Advances in Gene Expression and Enabling Technologies in Crop Plants. Edited by Azhakanandam, K., Silverstone, A., Daniell, H., Davey, M. Springer.