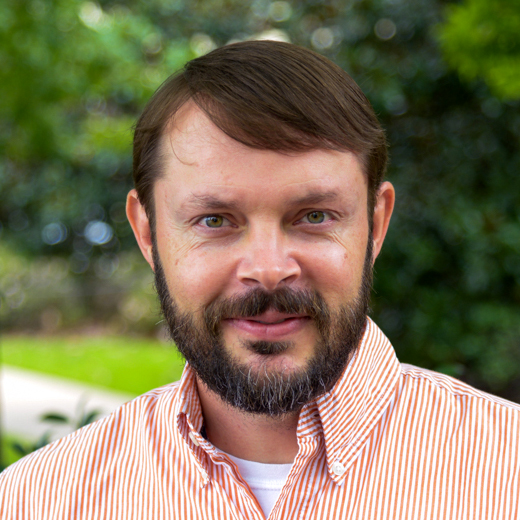 Address:
111 Funchess Hall
Auburn Univ, AL 36849
Biography
EDUCATION
2007 Doctor of Philosophy, Horticultural Sciences — Texas A&M University
2002 Master of Science, Horticulture — Mississippi State University
2000 Bachelor of Science, Horticulture —Mississippi State University
PROFESSIONAL EXPERIENCE
Oct. 2014 – present Associate Professor, Department of Horticulture. Auburn University
Aug. 2008 – Sept. 2014 Assistant Professor, Department of Horticulture. Auburn University
Jan. 2008 – Aug. 2008 Postdoctoral Associate (Instructor), Department of Horticultural Sciences. University of Florida
Jan. 2003 – Dec. 2007 Research and Teaching Assistant, Department of Horticultural Sciences. Texas A&M University
Aug. 2001 – Aug. 2002 Research Assistant, Department of Horticulture. Mississippi State University
HONORS AND AWARDS
2016 American Society for Horticultural Science – Southern Region, J. Creighton Miller, Jr. Distinguished Educator Award
2011 Auburn University College of Agriculture Dean's Award for Grantsmanship
PROFESSIONAL AFFILIATIONS
American Society for Horticultural Sciences
American Society for Horticultural Sciences – Southern Region
International Society for Horticultural Sciences
American Pomological Society
Research
RESEARCH ACTIVITIES
In my research program, I am attempting to address needs of current and future fruit growers in Alabama and the southeastern U.S. Specifically, my research is focused on improving the sustainability and efficiency of selected fruit production systems in our region. The fruit industry in Alabama is unique in that many different fruit crops are grown commercially on small acreage farms and marketed through local markets, and there are few fruit producers marketing through wholesale markets. This provides many opportunities to impact the fruit industry in Alabama, because there is room for growth and many different fruit crops perform well. It is an exciting time for small acreage farmers due to successful initiatives to promote locally grown fruits and vegetables, and the subsequent success of farmer's markets. In addition, many large grocery chains are trying to capitalize on the increasing demand for locally grown produce, and previously closed outlets are becoming available for Alabama fruit and vegetable growers. My program is designed to determine best management practices for selected fruit crops with potential for growth in Alabama. The bulk of our research is with satsuma mandarin (Citrus unshiu), kiwifruit, and blueberry. Current research on satsuma mandarin pertains to evaluating new rootstock and scion selections for cold tolerance and overall performance, and determining the effects of fertilizer rates and application frequency on fruit yield, fruit quality, and alternate bearing. Blueberry research has been focused on evaluating cultivar performance on relatively high soil pH and the efficacy of alternative mulches. Kiwifruit research pertains to determining best management practices for various production aspects of Actinidia chinensis in the southeastern U.S., including post harvest and consumer acceptance of 'AU Golden Sunshine' and 'AU Golden Dragon'.
Courses
COURSES TAUGHT
HORT 2010 Fruit and Nut Production
HORT 2020 Horticulture Crop Production
HORT 5110/6110 Tree Fruit Culture
HORT 5120/6120 Small Fruit and Pecan Culture
Publications
Kelley, J.T., J.D. Spiers, J.R. Kessler, E.D. Coneva, and E.L. Vinson. 2022. Effect of hydrogen cyanamide on flower production of 'AU Golden Sunshine' and 'AU Gulf Coast Gold' kiwifruit. Journal of the American Pomological Society. Accepted.
Svyantek, A.W., E.D. Coneva, J.R. Kessler, J.D. Spiers, E.L. Vinson, M.A. Walker, and J.A. Pitts. Assessment of Pierce's Disease resistant 87.5% Vitis vinifera L. selections in central Alabama. 2020. Catalyst: Discovery into Practice 4:74-81.
Brantley, A.K., J.D. Spiers, A.B. Thompson, J.A. Pitts, J.R. Kessler, A. Wright, and E. Coneva. 2019. Effective pollination period of Actinidia chinensis 'AU Golden Sunshine' and Actinidia deliciosa 'AU Fitzgerald'. HortScience 54:656-660.
Spiers, J.D., W.A. Dozier, Jr., J.A. Pitts, B.S. Wilkins, A. Brantley, L. Xie, A. Hoppers, and J.R. Kessler. 2018. Performance of selected Actinidia chinensis kiwifruit cultivars in central Alabama, U.S.A. Acta Horticulturae 1218:143-148.
Brantley, A.K., J.D. Spiers, A.B. Thompson, J.A. Pitts, J.R. Kessler, A. Wright, and E. Coneva. 2018. Evaluating the length of time that kiwifruit flowers can be successfully pollinated. Acta Horticulturae 1218:139-142.
Hoppers, A.A., J.D. Spiers, J.R. Kessler, A.N. Wright, and A.A. Powell. 2018. Root distribution of 'Brightwell' and 'Premier' rabbiteye blueberries as influenced by pecan shell mulch. Journal of the American Pomological Society 72(2)101-112.
Spiers, J.D., C.A. Jenda and B.S. Farrell. 2017. History of Gulf Coast Citrus. HortScience 52:806-813.