Quantitative Fisheries
Lab Research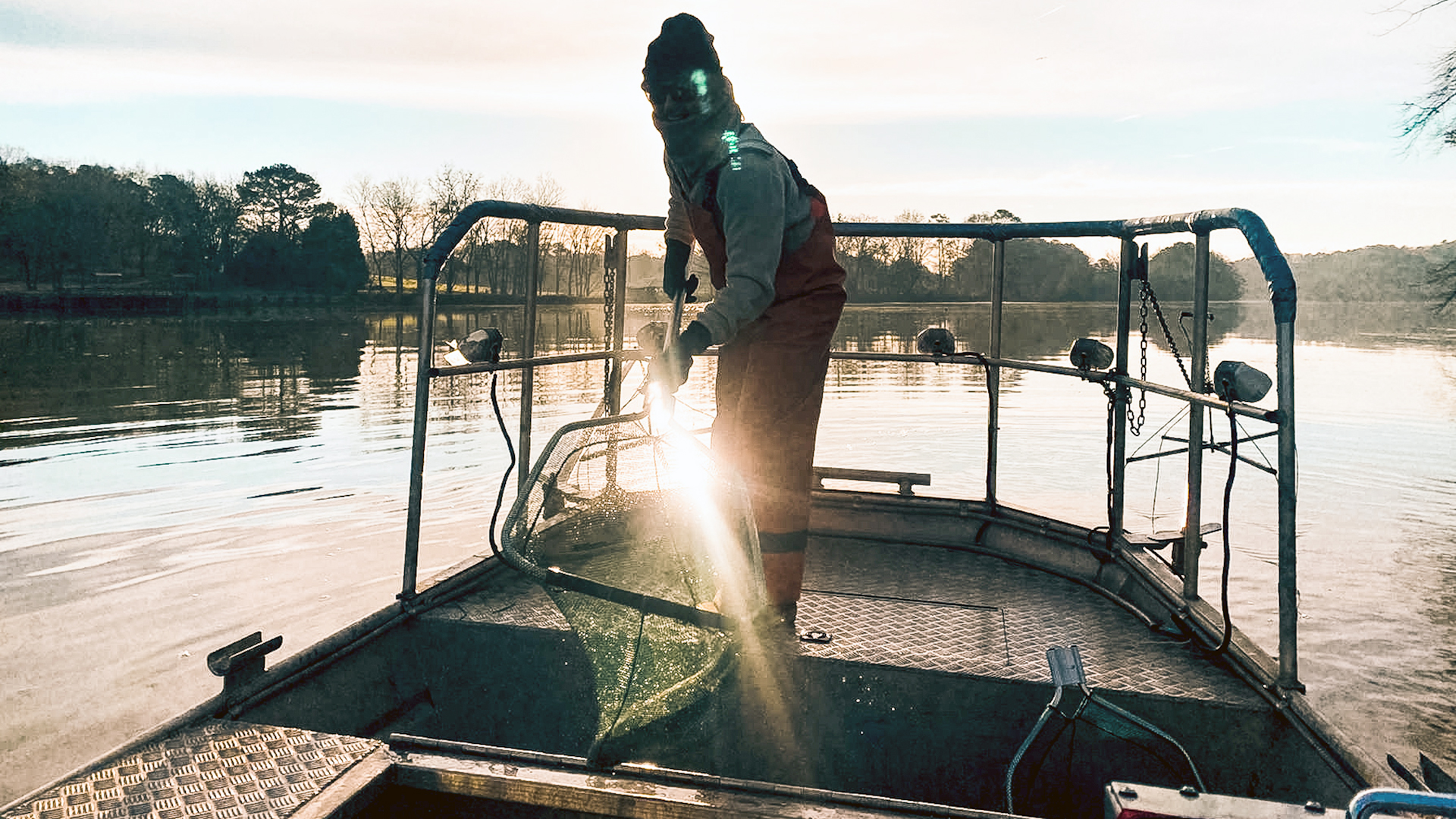 Greater Amberjack Project - Mortality and movement of Greater Amberjack in the Gulf of Mexico & Atlantic Ocean
GREATER AMBERJACK PROJECT SUMMARY
This project seeks to estimate movements, habitat connectivity, and mortality rates of Greater Amberjack fish in the Gulf of Mexico and Atlantic Ocean off of the Southeastern United States. We are using high-reward external tagging and acoustic telemetry to obtain these estimates.
For more information view the Greater Amberjack Project & Tag Reporting Instructions page.
Neely Henry Lake, AL - Largemouth & Spotted Bass Project
PROJECT SUMMARY
This project seeks to understand factors affecting Largemouth and Alabama (Spotted) Bass size structure and abundance at Neely Henry Lake, Alabama. We are using radio telemetry and high-reward tagging to estimate natural mortality and population-level fishing mortality rates associated with bass tournaments, non-tournament angling, and harvest. We are also collecting data on the prevalence of Largemouth Bass Virus in this population to understand its possible contribution to natural mortality and growth. DNA samples will also be collected to estimate the contribution of different Largemouth bass strains and how those contributions might relate to growth and mortality rates.
HIGH REWARD BASS TAGGING
In the spring of 2022, we released 800 tagged Largemouth and Alabama Bass at Neely Henry Lake. The high-reward tagging study relies on anglers to report the capture of tagged bass. Anglers receive a reward of $100, $200, or $300 per tagged fish that they catch and report to us. The reward amount and phone number for our Tag Return Hotline (1-833-515-5137) are printed on the tag.
If you have captured one of our tagged bass, please read our Largemouth & Spotted Bass Tag Reporting Instructions for more information.
EVALUATING THE INFLUENCE OF THREADFIN SHAD ON LARGEMOUTH BASS & BLUEGILL POPULATIONS IN SMALL IMPOUNDMENTS
PROJECT SUMMARY
The two-species fish community consisting of largemouth bass (Micropterus salmoides) and bluegill (Lepomis machrochirus), which was popularized via research by Homer Swingle and others at Auburn University, has provided the foundation for small impoundment fish stocking and management efforts since the mid-1900s. This species combination is commonly enhanced with additional prey species to provide alternative forage for largemouth bass with the goal of increasing the growth and condition of these predators. Threadfin shad (Dorosoma petenense), a native fish of the herring (Clupeidae) family, are often added to small impoundments as a forage enhancement. Threadfin shad potentially provide an energy-rich food source for largemouth bass because they attain a relatively small adult body size and are therefore vulnerable to predation by a wide range of sizes of largemouth bass. However, threadfin shad may compete with juvenile bluegill for zooplankton, which could reduce bluegill growth, survival and condition.  Investigations of threadfin shad introductions on largemouth bass and bluegill populations have been mixed, with some indication for negative effects on bluegill and positive effects on largemouth bass growth. Many of these studies have been conducted in large lakes and reservoirs. Surprisingly little work has addressed the influence of threadfin shad on fish communities in small impoundments. Our study combines an experimental stocking of threadfin shad in ponds at Auburn University's E.W. Shell Fisheries Experiment Station with a survey of privately owned established ponds. We are assessing differences in largemouth bass and bluegill growth, condition, and food habits between ponds with and without threadfin shad. We will also assess differences in zooplankton communities and temporal patterns of larval fish occurrence to assess potential mechanisms for interactions between threadfin shad, largemouth bass and bluegill. The findings of this research will have important implications for small impoundment management in the southeastern U.S. and beyond.
M.S. Student Contact: Sean Lusk
FACTORS AFFECTING LARGEMOUTH BASS SIZE STRUCTURE AT WHEELER & GUNTERSVILLE RESERVOIRS, ALABAMA
PROJECT SUMMARY
Largemouth bass Micropterus salmoides fisheries place a high value on quality size structure. Tennessee River impoundments, Guntersville and Wheeler Reservoirs are popular largemouth bass fishing destinations that experienced declines in catch rates of fish greater than 500 mm total length in the late 1990's early 2000's. Although size structure has since recovered to historical norms at Guntersville, continued relatively low catch rates of large fish at Wheeler Reservoir have raised questions regarding factors affecting largemouth bass size structure at these reservoirs. We are comparing growth, recruitment, and mortality estimates between the two reservoirs to assess factors affecting size structure.  Potential mechanisms for growth differences are being evaluated by quantifying diet composition and estimating consumption rates at the two reservoirs. We are using cohort analyses to evaluate recruitment and mortality rates.  Potential natural mortality differences between reservoirs are being assessed by testing for largemouth bass virus prevalence.  Our findings will help increase understanding of patterns in largemouth bass size structure at these and other reservoirs.
M.S. Student Contact: Nick Feltz
EVALUATING DATA-LIMITED CHINOOK SALMON ASSESSMENTS IN WESTERN ALASKA
PROJECT SUMMARY
Evaluating hypotheses for Chinook salmon (Oncorhynchus tshawytscha) declines in the Arctic-Yukon-Kuskokwim Region of Alaska and managing these stocks requires that we obtain reliable estimates of stock status, trends, and productivity. These estimates have been obtained from novel drainage-wide run reconstruction models developed specifically for data-limited cases.  However, these models have potential pitfalls that warrant further investigation.  In particular, the models may be susceptible to bias stemming from incomplete temporal and spatial coverage of run enumeration projects and natural between-stock variation in population dynamics within a drainage basin.  We will investigate the circumstances under which these drainage-wide reconstructions provide accurate and precise estimates of Chinook salmon abundance and productivity.  Specifically, we are developing a series of computer simulation-estimation analyses to test the influence of variation in stock productivity, data quality, and data quantity on the accuracy and precision of these models.  We are also considering the costs of data collection scenarios in light of model performance.  This analysis will provide guidance on the reliability of these models under different data collection scenarios and their associated costs, which will aid prioritization of field sampling programs.
M.S. Student Contact: Ben Staton
EVALUATING DENSITY-DEPENDENT RECRUITMENT & GROWTH OF AGE-0 LARGEMOUTH BASS IN SMALL IMPOUNDMENTS
PROJECT SUMMARY
Largemouth bass typically reach high population densities in small impoundments due to high age-0 survival rates, which can lead to reduced growth and body condition due to inter-specific competition.  Managing these populations to increase growth rates involves manipulating population densities or enhancing prey populations.  The effectiveness of reducing population density depends on the strength of density-dependent survival and growth.  In this project we are experimentally manipulating population densities of age-0 Largemouth Bass to evaluate density-dependent changes in survival and growth.  We are reducing age-0 density via shoreline application of the botanical piscicde rotenone shortly after young Largemouth Bass recruit to shoreline habitats.  We are then comparing survival and growth responses of these cohorts in treated ponds with untreated controls using a before-after-control-impacts study design.  Understanding the responses of these populations to reduced density will increase our understanding of recruitment processes and will provide guidance on the efficacy of using shoreline rotenone application to reduce recruitment in these systems.
Greater Amberjack Project & Tag Reporting
Fish Reward Tag Registration FAQ
Auburn Bass Tag Reporting Instructions
Step-by-Step Vendor Registration Guide
Associate Professor
217 Swingle Hall
Auburn Univ, AL 36849