Greater Amberjack Project
& Tag Reporting Instructions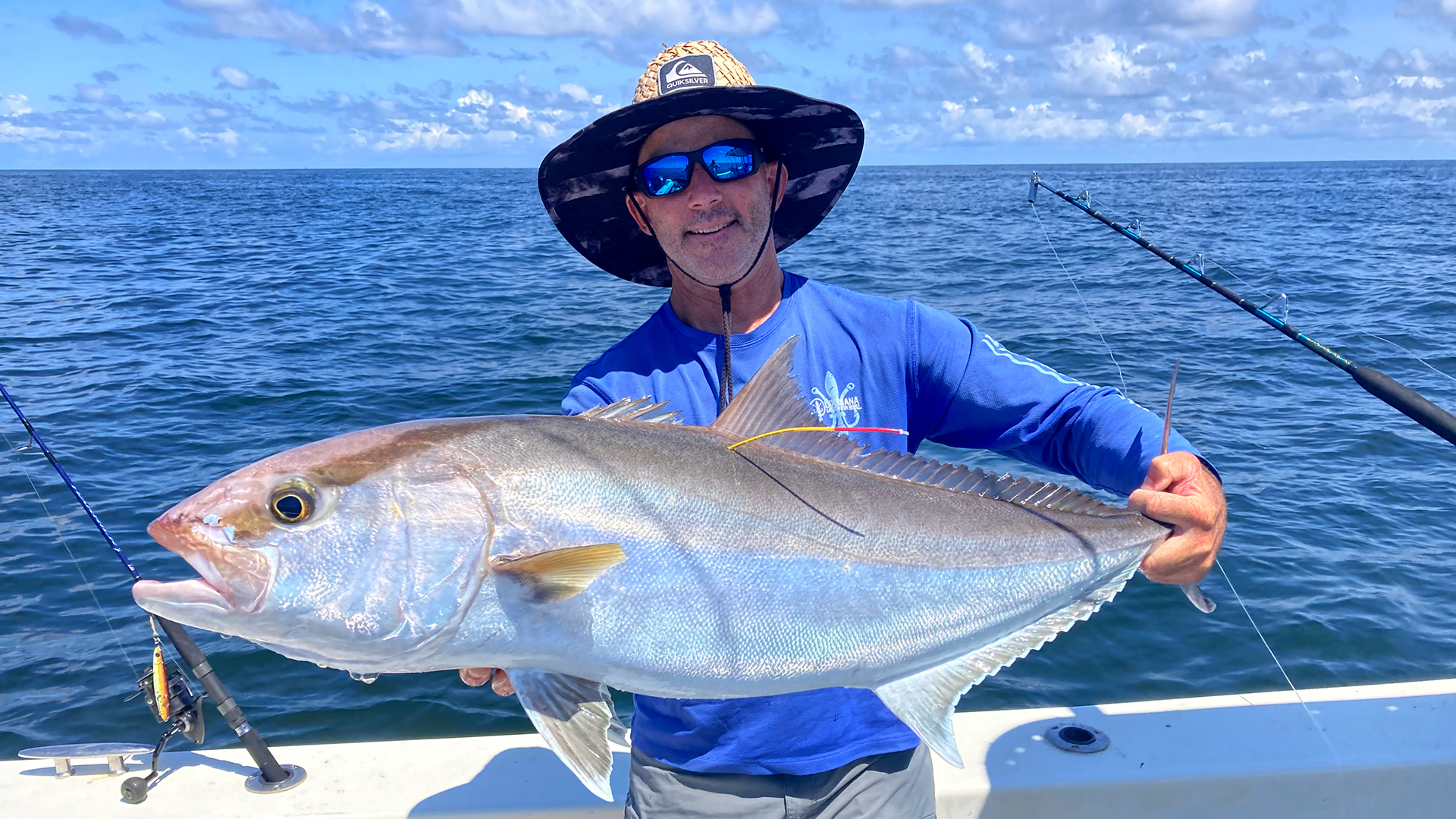 Mortality and movement of Greater Amberjack in the Gulf of Mexico and Atlantic Ocean
Project Summary
This project seeks to estimate movements, habitat connectivity, and mortality rates of Greater Amberjack fish in the Gulf of Mexico and Atlantic Ocean off the Southeastern United States. We are using high reward external tagging and acoustic telemetry to obtain these estimates.  This project is part of a larger multi-institution study funded by Mississippi-Alabama Sea Grant to estimate regional habitat-specific abundance of Greater Amberjack. This project will provide critical data to fisheries management agencies to help them make informed regulatory decisions.
Greater Amberjack Tagging
Throughout the summer of 2022, a total of 1200 tagged Greater Amberjack will be released throughout the Gulf of Mexico (West Texas to the Key West) and the Atlantic Ocean (Key West to North Carolina).  Each fish will be tagged with one or two external reward tags.  These tags are red and yellow in color and will be located just below the first dorsal fin on either side of the fish.  Some fish will also have an acoustic transmitter implanted into the abdominal cavity of the fish.  These transmitters will allow us to detect and track the fish to determine movements and habitat use.
External Reward Tag:

Angler Tag Returns
The high reward tagging study relies on anglers to report the capture of tagged Greater Amberjack. Anglers will receive a reward of $250 per tagged fish that they catch and report to us. External tags may be located on either (or both) side(s) of the fish so be sure to check both sides of the fish if you catch one.
Clip the tag(s) off and call our Tag Return Hotline (1-833-515-5137), which is printed on the tag. It is very important that you clip off the tags because you cannot collect a reward without mailing us the physical tag.
Some of the fish have been tagged with two external reward tags. Rewards are paid on a per-fish basis, therefore reporting a double-tagged fish will result in a $250 reward just like a single-tagged fish. If you catch a double-tagged fish, we ask that you still clip off both tags. If you have captured a tagged fish, please read the detailed Greater Amberjack Tag Reporting Step-by-Step Instructions below.
Tag Returns from Sublegal Sized Fish
We have tagged legal and sub-legal sized fish. Please inspect all sizes of fish and clip off those tags regardless of whether the fish is legal to harvest. You will receive your reward either way. Of course, all sublegal fish should be released unharmed after the tags are clipped off.
Closed Season Tag Returns
We are interested in any Greater Amberjack that are captured incidentally when the season is closed.  Please inspect all amberjack for tags regardless of the time of year and what species you are fishing for.  Be sure to clip off those tags and call us before releasing the fish unharmed.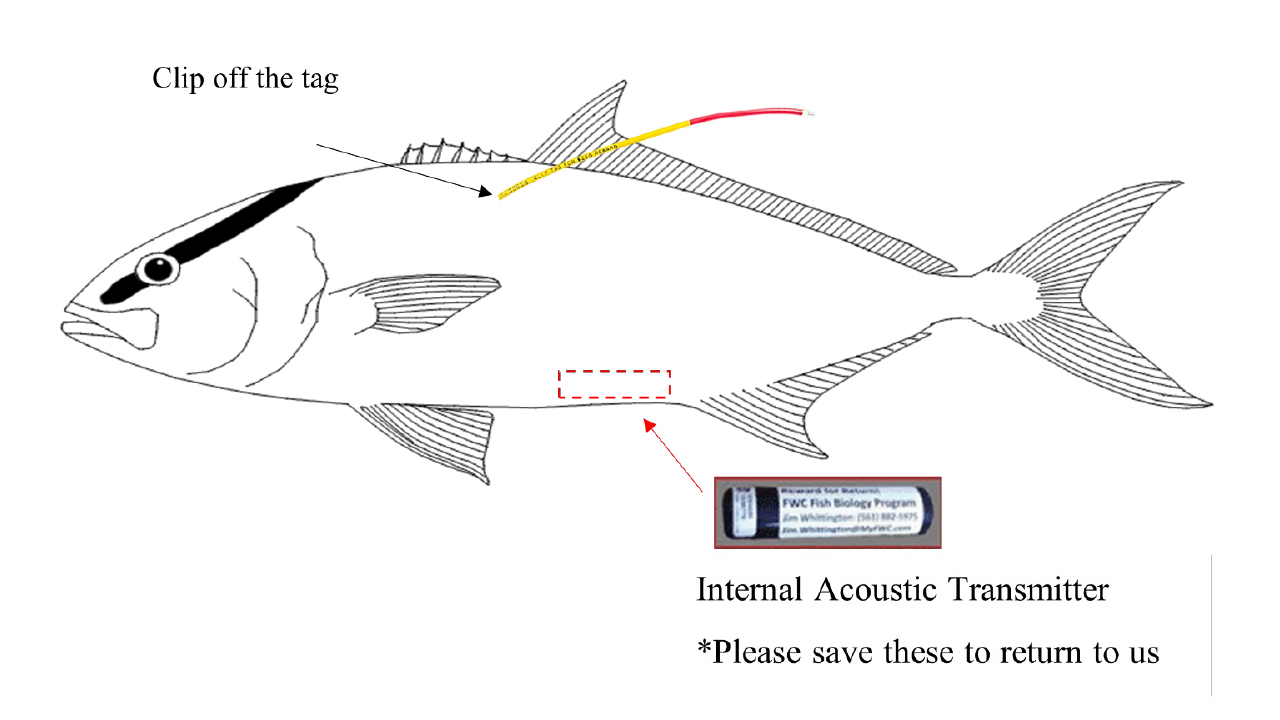 Acoustic Transmitters
Some of the fish have an acoustic transmitter implanted into the abdominal cavity of the fish. You do not need an internal transmitter to receive your reward. If you were planning to release the fish originally, please do not look for or disturb this transmitter
If you harvest a Greater Amberjack and find this transmitter while filleting the fish, we ask that you ship it back to us along with your reward tag. We are happy to provide pre-paid postage for shipment of the transmitter.
Information we will collect from anglers
When anglers call our Tag Return Hotline (1-833-515-5137) to report a tag, we will have them complete a brief verbal survey. Here is a list of some of the information that we will collect over the phone:
Angler contact information (will be kept strictly confidential of course)
Tag number(s)
Date of capture
General capture location, latitude/longitude (with angler permission, will be kept strictly confidential), and depth
Fishery sector (recreational or commercial fishing)
Fate of the fish (harvested or released)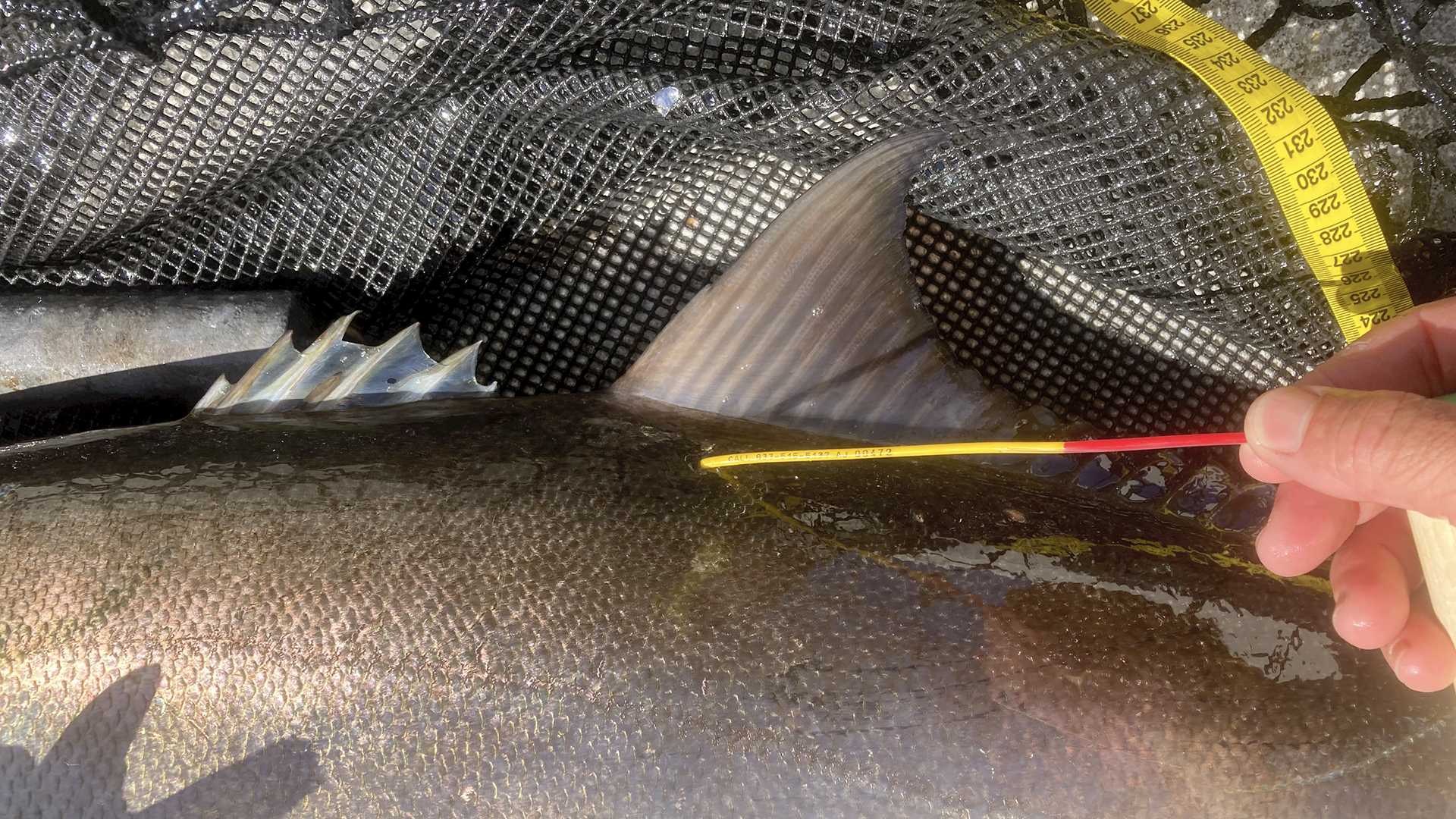 Greater Amberjack Tag Reporting Step-by-Step Instructions
Step 1 - What to Keep
If you catch a tagged Greater Amberjack, please clip off the yellow and red reward tag(s) as close to the fish as you can and keep the tag(s). It is very important that you keep the tag(s) because you will need it to claim your $250 reward.* 
You are free to keep or release the tagged fish as you normally would, but please be sure to cut off and keep the tag. 
Some of our fish also have an acoustic transmitter implanted into the body cavity. These tags are used to track the movements of the fish. If you harvest a Greater Amberjack and find an acoustic transmitter, please save it with your reward tag to send back to us (see details below).
*Rewards are paid on a per-fish basis. Anglers reporting a fish with two tags will not receive a double reward.
Step 2 - Who to Call
Please call our Tag Return Hotline 1-833-515-5137 to report your catch.
We'll ask for your contact information (which will always be kept strictly confidential), the tag number, date of capture, capture location, and other important details about your catch. We'll also walk you through the tag return process.
Step 3 - Where to Mail the Fish Tag
Next, mail the physical tag you clipped off (and the acoustic transmitter if applicable**) to the following address:
School of Fisheries, Aquaculture, & Aquatic Sciences
Attn: Fish Tag Returns
203 Swingle Hall
Auburn University, AL 36849
Please include a written copy of your name, phone number, email address, and mailing address along with your tag so we know who it belongs to.
**We can provide prepaid postage for sending in the acoustic transmitters if requested.
STEP 4 - REGISTER FOR TAG REWARD PAYMENT
First, please read our Step-by-Step Vendor Registration Guide that walks you through the vendor registration process.
Go to the following link to register: http://aub.ie/supplier.
You will need to create an account by entering an email and password and be sure to click the second option:
'I am or represent a person providing goods or services'
Then click the 'create account' button at the bottom of the page.
Once you have an account, log in and go through the registration process by filling out the requested information.
*NOTE: Make sure that the name of the person registering as a vendor matches the name we recorded on the phone as catching the fish.
This is very important!
STEP 5 - WHAT TO EXPECT AFTER APPROVAL
Once you complete the registration process, your account will need to be approved. This can take 2-3 weeks depending on the current volume of applications.
Once approved, a supplier's number will be emailed to you.
Please routinely check your email junk folder!
After you receive your supplier's number, please email it to us at ajtag@auburn.edu along with your name, phone number, reward amount, and mailing address.
We will then submit your payment voucher, allowing your payment to be processed. If you select direct deposit as the method of payment, your reward could come in less than one week after sending us the supplier number. If you prefer to be paid by paper check, it can take up to two weeks for the check to arrive.
If you have any additional questions, feel free to send an email to ajtag@auburn.edu or call our hotline 1-833-515-5137 and we will do our best to help you through any difficulties. Also please see our FAQ page for answers to common questions.
Fish Reward Tag Registration FAQ
Auburn Bass Tag Reporting Instructions
Step-by-Step Vendor Registration Guide
Associate Professor
217 Swingle Hall
Auburn Univ, AL 36849